Joy in the Morning, by P.G. Wodehouse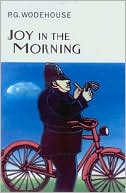 This was my first Wodehouse (apparently pronounced "Woodhouse"). Since the guy published over ninety books during his lifetime, I just randomly picked one off of my library's shelves. I must say that I picked pretty well. Joy in the Morning is part of the Wooster and Jeeves saga. Jeeves, Wooster's butler, has apparently become the standard for stereotypical butlers. It was nice to meet the original.
Bertie Wooster is manipulated into visiting Steeple Bumpleigh to help out his Uncle Percy, who once chased him around for a mile brandishing a riding crop. Mishaps and setbacks follow upon disasters and misunderstandings. Jeeves is ever clever and ever relied on for solutions to the plethora of problems. While Jeeves is the brains of the outfit, Wooster is definitely the actions. Wooster, the innocent dupe, is called upon to perform unpleasant task after unpleasant task in the service of his relatives and friends. Comedy, of course, ensues and, in the end, all ends well.
I have to say that I thoroughly enjoyed this reading experience. It was don't-drink-milk-whilst-reading-this hilarious. I read it in a restaurant at lunch and laughed out loud. (Great for my public image.) All of the names in the book were hilarious and perfect: Steeple Bumpliegh, Boko Fiddleworth, Percy Lord Worplesdon. One of the best characters was Edwin, a ten-year-old boy scout who had a "kink in his psychology which made him such a menace to society." The writing is clearly informed by great artists. Wooster is always incompletely or incorrectly citing great literature and poetry. Jeeves then fills in the correct quote. This added high brow touch as well as opening up opportunities for comedy what with Wooster constantly belittling Shakespeare. There are also a satisfying number of "Tally hos!" The only disappointing thing about this book (which I feel I must point out however slight) was the minimal character development. However, this is easily overlooked. The wit constantly boils over. I'm happy that this was only one of ninety or so of P.G.'s books. I'll be picking up another one or ten.
Joy in the Morning, by P.G. Wodehouse [rating:4]