Admit One, by Emmett James
I received this book for free from the publisher. All content and opinions are my own.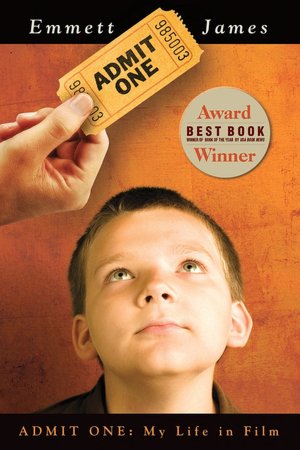 The first question I have when I encounter a memoir is why did this person feel compelled to write about his life? Did he do something particularly amazing with his life? Did he overcome some great obstacle? Did he play a part in a major historical event? Did he at least marry an important person? Did he live in a third-world country? Did he have a unique life experience? In this particular case, none of the above seem to apply. Emmett James simply recounts his youthful encounters with movies and his later efforts to become a working actor in Hollywood.
Admit One: A Journey Into Film consists of twenty-two chapters, each with a movie as its title and theme. While I like the idea as a concept, the execution left something to be desired. Forcing each chapter to comport with a movie made all of the recollections seem contrived. James obviously felt obligated to mention each movie as though he had seen it during the relevant time period and as though he had made the connection between it and his particular circumstance at the time. Also, it made the writing and the timeline choppy and disjointed. Each of the chapters was like a vignette that failed to fit in with the others.
I was often turned off by the angry tone of the book and by James's less-than-generous attitude towards the people who played roles in his stories. He belittles his grandparents, his parents, his siblings, and his friends. None of his relationships in the book even seem important to him. In fact, at the end of the book, there is no one there with him. Also, he never seems to think about the effect of his actions, from his stint stalking a famous director to his forgery business.
There were a few interesting points. My favorite chapter was the Star Wars chapter. James's retelling of the effect the Star Wars movies (and marketing) had on him helped me to understand other Star Wars lovers in my life. Also, the story of his quest to obtain a Star Wars toy from Santa was pretty compelling. Others of the stories were interesting, but generally cut out too soon. For example, James recounts how he snuck his way into an Oscar party in Hollywood, but didn't tell the reader anything about the party. In another story, James recounts how he played a steward in the blockbuster Titanic, but then does not tell the reader anything about the shoot. Also, it wasn't clear to me at the ending whether James was a successful actor or not. A few bit roles does not equal a career. In all, I was nonplussed by James's attitude, and the stories didn't do enough to make up for it.
Thanks to Lisa at Online Publicist for sending me this book.
Admit One, by Emmett James [rating:2]
Other Reviews:
Blue Archipelago
The Literate Housewife
Musings of a Bookish Kitty
Devourer of Books
Maw Books Blog