The Goose Girl, by Shannon Hale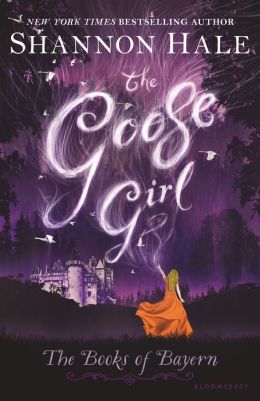 Last fall, in a Newberry Award streak, I picked up Princess Academy, by Shannon Hale (a 2006 Newberry Honor book). I loved the book, and the fact that Shannon Hales lives near me. In fact, I recently went to one of her signings. Anyway, after Princess Academy, I read Book of a Thousand Days and Austenland. I hadn't, though, delved into her Bayern series. Thus, when my book club picked the first Bayern book, The Goose Girl, for this month's read, I was thrilled.
The Goose Girl is based on the fairy tale of the same name. I knew the basic plot of the fairy tale (princess goes to marry a prince in a foreign land, her lady-in-waiting switches places and tells everyone she is the princess, the princess becomes a goose-keeper, eventually the true princess is restored to her rightful place and the lady-in-waiting is killed), but Hale's retelling of the book was intruiging and magical and heartfelt. I was swept along with Ani/Isi (the goose girl) and her tale of becoming a princess by being a commoner. The character development was a little spotty with regard to most of the other characters, as with most fairy tales, but the development of Ani was amazing. I felt her uncertainty and longing and the building of her character and sense of self. (Also, I loved the prince.)
Some of the more fantastical elements, like Ani's the communications with the wind, were a little much for me. But I loved Ani's mystical aunt and Ani's communications with Jok, the goose, and Falada, her horse. There was a bit of everything in this story: heartbreak, intrigue, murder, royalty, love, friendship, betrayal, loyalty, bravery, and self-discovery. And, most importantly, they all lived happily ever after. At least until the next book starts. Sigh. I'll read this book again. And again.
The Goose Girl, by Shannon Hale [rating:5]
Other reviews:
A Striped Armchair
The Written Word
Melody's Reading Corner
Things Mean a Lot
Blue Archipelago