The Invention of Hugo Cabret, by Brian Selznick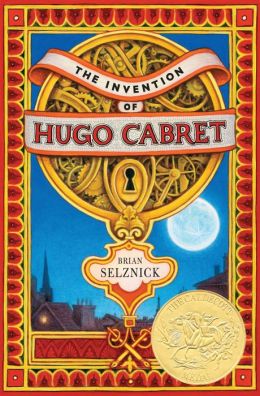 I am quite delighted with this book. I'm so glad that I picked it up from the library today on a whim. The Invention of Hugo Cabret was awarded the 2008 Caldecott Medal.
With a combination of black and white pen sketches and black and white printed words, this book is unlike any I've ever read. At 526 pages in a hardbound binding, it looks a little daunting. However, I read it carefully in less than an hour and a half. At least half of the pages are beautiful sketches, with a few black and white photographs thrown in. The presence of the pictures and the opening instructions to "picture yourself sitting in the darkness, like the beginning of a movie" set a magical tone to the book.
The story is (though I don't like to use the term) heartwarming. Little Hugo Cabret has been orphaned and is living a precarious life as a clockkeeper in a train station. His father died trying to fix an old automaton, and Hugo has taken it upon himself to fix it. This quest leads him through a fantasical and yet very believable adventure that ends with him finding his true self. The writing itself is simple and rich. The combination of the pictures and the story is a beautiful work of art that defies proper description. I cant wait to see what Brian Selznick does next.
Everyone needs to read this book. Go on. Go read it.
The Invention of Hugo Cabret, by Brian Selznick [rating:5]
Other Reviews:
Rebecca Reads