Anne of Green Gables, by L.M. Montgomery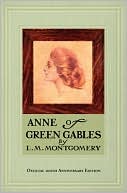 I was prompted to reread Anne of Green Gables in June to celebrate the 100th anniversary of its first publication. In honor of the anniversary, Kate is hosting a group read and Mrs S is hosting a mini-challenge. This post contains *SPOILERS*, but hasn't everyone read Anne of Green Gables?
Anne Shirley is one of my favorite literary heroines (second, only, to Elizabeth Bennett). Though I first found and loved Anne as a child, this reading of Anne of Green Gables was just as magical as it was the first time I picked it up more than fifteen years ago.
The theme that struck me most this time around was that of morals. The theme is introduced early on: "Marilla was as fond of morals as the Duchess in Wonderland, and was firmly convinced that one should be tacked on to every remark made to a child who was being brought up." And repeated throughout: "'But we're so careful to put a moral into them all, Marilla,' explained Anne. 'I insist upon that. All the good people are rewarded and all the bad ones are suitably punished. I'm sure that must have a wholesome effect. The moral is the great thing.'"
However, Anne's simplistic idea of morals does not always hold true in "real life." Marilla and Matthew (need I say it?) are the salt of the earth. They kindly take in a little orphan who will not be able to help on the farm. They grow to love Anne as they would have a child. However, they lose all of their savings; Matthew dies; Marilla's eyes go bad. And, Anne, a well-intentioned child and an even better young adult, must make the decision to fulfill her academic pursuits or to stay in Avonlea.
Anne, in my opinion, is the essence of morality. She is a good person. She makes mistakes, but she is a good person, who honestly tries to be good and nice. She does well in school. She earns a scholarship for college. She is kind. And, in the end, she makes the moral choice and decides to stay in Avonlea with Marilla to help her. In today's world, Anne would be considered entitled to go to college because she earned it. She would likely be seen as giving up her own dreams for little or no reason; Marilla is perfectly capable of selling Green Gables and moving in with Mrs. Lynde. However, Anne makes the choice that she knows will make her happy.
"I'm just as ambitious as ever. Only, I've changed the object of my ambitions. I'm going to be a good teacher – and I'm going to save your eyesight. Besides, I mean to study at home here and take a little college course all by myself. Oh, I've dozens of plans, Marilla. I've been thinking them out for a week. I shall give life here my best, and I believe it will give its best to me in return. When I left Queen's my future seemed to stretch out before me like a straight road. I thought I could see along it for many a milestone. Now there is a bend in it. I don't know what lies around the bend, but I'm going to believe that the best does. It has a fascination of its own, that bend, Marilla. I wonder how the road beyond it goes – what there is of green glory and soft, checkered light and shadows – what new landscapes – what new beauties – what curves and hills and valleys further on."
In the end, that is what makes Anne of Green Gables memorable to me. The story of a little girl, who gets into endless scrapes, but who turns out to have a character worthy of those who lovingly brought her up.
Anne of Green Gables, by L.M. Montgomery [rating:5]
My Other Anne Reviews: Anne of Avonlea | Anne of the Island