New Moon, by Stephenie Meyer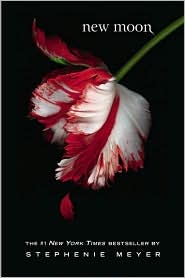 In honor of Breaking Dawn's release on Saturday, I'm rereading the Twilight series and posting mini-reviews.
FOR THE FUTURE READER – A MINI REVIEW
Bella's happiness is shattered when Edward and the rest of the Cullens leave Forks after a disastrous birthday celebration. Bella proceeds through the months lifelessly, only regaining a little cheer when she and Jacob Black's friendship is kindled.
Writing at the beginning was stilted. (It reminded me of The Babysitter's Club where each book had to make sure and let the reader know about each character's main attribute before proceeding with the saga.) Still, the writing improved dramatically after the first few chapters, and the story, as always, was enthralling. I think this book was everything you could ask for in a sequel. The same cast with development of some previously minor characters (ahem, the La Push crew), a good story continuing the saga, and the end of at least a thread of the story to give it some closure.
The last time I read through the series, New Moon was my favorite, but I think I liked Twilight a little better this time.
New Moon, by Stephenie Meyer [rating:4]

FOR THE PRESENT READER – A QUESTION
How does Edward's desertion make you feel about him as a character?
FOR THE PAST READER -A RESPONSE WITH *SPOILERS*
I'm still angry at Edward. How could he do that!?! Meyer was insanely adept at making me feel the betrayal and Bella's heart being ripped out. Bella died. How, then, could she just forgive him with just a few lame assurances that he would never leave her again? I don't buy it. The werewolves seem a little more loyal. I vote Jacob.