The Mysterious Benedict Society, by Trenton Lee Stewart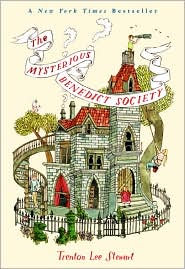 "ARE YOU A GIFTED CHILD LOOKING FOR SPECIAL OPPORTUNITIES?"
And so begins the adventures of The Mysterious Benedict Society. In short, four brilliant, mostly-orphaned children are selected to go undercover at a school run by a brainwashing madman intent on taking over the world. Our heroes:
Reynie Muldoon -a puzzle solver and discerner of character; the de facto leader of the society.
George "Sticky" Washington – a nervous boy with a perfect memory and a strong heart.
Kate Wetherall – a swashbuckling girl with some serious aplomb who carries a bucket on her belt.
Constance Contraire – a small, whiny, and determined child who wears on everyone's nerves but ultimately proves her worth.
The whole book is artfully and cleverly written. A few examples:
The school is the Learning Institute for the Very Enlightened – located on Nomansan Island. :o)

On adult perception (or lack thereof) of subliminal messages: "Oh, some may be vaguely aware of mental activity," Mr. Benedict said, "but if so, they attribute the uneasy sensation to something else. They think, perhaps, they've had an original idea, or have drunk too much coffee."

On rules at the school: "It sounds like there are no rules here at all," Sticky said. "That's true, George," said Jillson. "Virtually none, in fact. You can wear whatever you want, just so long as you have on trousers, shoes, and a shirt. You can bathe as often as you like or not at all, provided you're clean every day in class. You can eat whatever and whenever you want, so long as it's during meal hours in the cafeteria. You're allowed to keep the lights on in your rooms as late as you wish until ten o-clock each night. And you can go wherever you want around the Institute, so long as you keep to the paths and the yellow-tiled corridors."
This book was delightful and fun. I would recommend it to all, especially the young 'uns.
The Mysterious Benedict Society, by Trenton Stewart [rating:5]
Other Reviews:
Sassymonkey Reads
Stephanie's Written Word