Twilight, by Stephenie Meyer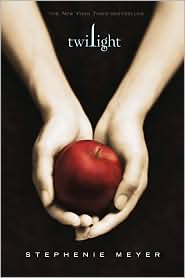 In honor of Breaking Dawn's release on Saturday, I'm rereading the Twilight series and posting mini-reviews.
FOR THE FUTURE READER – A MINI REVIEW

Bella exiles herself to Forks, Washington to live with her father after her mother remarries. Bella is an instant hit with all of the students at Forks High except Edward Cullen. He seems to froth at the mouth just at the sight of her. It turns out, Edward is a vampire and wants to suck her blood – or maybe just fall in love with her.
I had forgotten how charming this series is. I giggled and blushed my way through Twilight like a teenager. The writing flowed pretty well, particularly for a first-time novelist. The story is enthralling, and the story arc nicely completes this book while setting up the next. I love these characters. I wanted to be in their world for just a little longer. Good thing there are three more books, eh?
Twilight, by Stephenie Meyer [rating:5]
FOR THE PRESENT READER – A QUESTION

This whole book (and series) is told from Bella's perspective. What do you think is going on in Edward's head, particularly as the book closes? For some good insight, read the first chapter of Midnight Sun, the retelling of Twilight from Edward's perspective.
FOR THE PAST READER – A RESPONSE WITH *SPOILERS*
There is SO much foreshadowing in this book. It really adds to the respect I have for Meyer, who clearly had a vision of where this series was going to go. This time through, trying to imagine the ending in store for Bella, everything jumped out at me: Bella's ability to smell blood, Bella's hyper-sensitivity and perception, Alice's description of the process of becoming a Vampire, the bite from James, etc. etc. I can't wait to see how it all turns out! What do you think? Edward or Jacob? Vampire or human or something in between?