Breaking Dawn, by Stephenie Meyer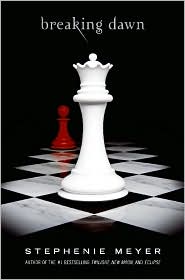 At last! The fourth and final book (sort of) of the Twilight Saga by Stephenie Meyer. I went with my mother- and sisters-in-law to the release party on Friday night in order to obtain the book at the earliest possible moment. (Yes, we're all technically too old for this, but that didn't stop us from putting on those temporary tatoos provided in the special edition of New Moon and hamming it up.)
This post does contain *SPOILERS* so proceed at your own risk.
FOR FUTURE READERS – A REVIEW
Bella and Edward have a fairy tale wedding and a fairy tale honeymoon, until Bella discovers that she is pregnant. They race back to Forks where their world starts to unravel.
I was generally pleased with this last installment. Having read The Host, I knew that Meyer would make it so there would be a "happily ever after" for everyone. I just couldn't imagine how she would go about it. Though, go about it she did. A la J.K. Rowling, the answers are set up in the previous books, causing me to have several "a ha" moments – out loud.
The only major complaint I have was that about 200 pages were narrated by Jacob. With Bella as the narrator for the whole series, this temporary shift was hard to acclimate to. I just don't think it was necessary or helpful. Still, as I've said with every other book by Meyer, the storytelling was enthralling. This book didn't seem to wax as tedious as Eclipse (but maybe that it because I read this one in one day). In all, Breaking Dawn definitely completes the series in a satisfying way.
Breaking Dawn, by Stephenie Meyer [rating:3]
Other Reviews:
Sassymonkey Reads
Maw Books Blog
It's All About Books
A High and Hidden Place
FOR THE PRESENT READER – A QUESTION

How do you feel about Renesmee and her place in Bella and Edward's lives? In the story?
FOR THE PAST READER – A RESPONSE WITH *SPOILERS*
I have to say that I wasn't thrilled about the baby aspect. Maybe it's because I'm not yet a mother, but I just couldn't really relate to Bella's apparently idiotic maternal instincts. Also, this series is about BELLA and EDWARD. Not Bella, Edward, and child. So, I was a little annoyed, at first. Then, I realized that it just gave the characters something to gravitate around, to make it more of a family. It's an effective plot device, and one that I thought ultimately didn't stand in the way of Bella and Edward's romance. Thank you, Jacob.