Looking for Alaska, by John Green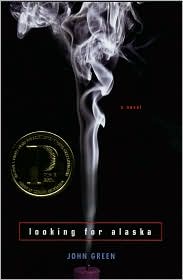 Looking for Alaska, by John Green, was the winner of the 2006 Michael L. Printz Award. This book qualifies for the Printz Project.
FOR THE FUTURE READER – A REVIEW
"I go to seek a Great Perhaps." – Last words of Francois Rabelais
"How will I ever get out of this labyrinth!" – Last words of Simon Bolivar
Miles Halter, a sixteen year old with a passion for last words, has decided to leave his high school and home to find his Great Perhaps at a boarding school in Alabama. Upon arriving, he falls in with "the Colonel," his roommate, Takumi, Lara, and Alaska. The group is an interesting blend of rebellious and studious, and it centers compulsively around Alaska, the epitomy of the desirable, untouchable high school girl of myth and fantasy. The characters flirt, plan pranks, and cram for finals in a very ordinary teenage fashion. However, the book is divided into two sections: before and after. The first heading is "one hundred thirty six days before," so you know that the book is building up to a Great Something.
Green deals with teens in a realistic and important way. The characters are well-developed, and their actions and decisions come across as genuine. Definitely flawed, the characters are still very human and forgiveable. The sprinkling of famous last words and religious philosophy enhance the plot with precise dosages, rather than distract. Miles is a reliable and likeable narrator. I can see why this won the Printz Award and would recommend it to young adults and adults alike.
Looking for Alaska, by John Green [rating:5]
Other reviews:
Stuff As Dreams Are Made On
Things Mean A Lot
The Hidden Side of a Leaf
Sassymonkey Reads
Books. Lists. Life.
FOR THE PRESENT READER – A QUESTION
Did Miles find the Great Perhaps he was looking for? Did Alaska?
FOR THE PAST READER – A RESPONSE

I think Miles found his Great Perhaps within himself. He had the courage to go to the boarding school in the first place; the courage to make new friends and love Alaska; and the courage to face difficulties and commit to relationships. I don't think that the Great Perhaps is a destination but a journey. Perhaps teenagers passing through the trials of teenagehood to find who they are as adults constitutes a search for that Great Perhaps. Miles, by the end of the book, has matured and found his way to the other side of that particular perhaps, ready for bigger challenges and unknowns. Alaska, on the other hand, didn't find her bildungsroman Great Perhaps, but rather chose to seek out a different path, in search of a different unknown – a way out of the labyrinth.