The Brief Wondrous Life of Oscar Wao, by Junot Diaz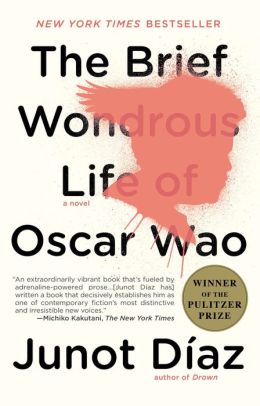 The Brief Wondrous Life of Oscar Wao, by Junot Diaz was the winner of the 2008 Pulitzer Prize for Fiction.
FOR THE FUTURE READER – A REVIEW
Oscar is a nerdlinger and fat to boot. His mother, a dominicana, immigrated to the U.S. prior to his birth. He, despite the famed dominican macho males, cannot find reciprocated love. Tales of his sister's and his mother's childhoods, steeped in Dominican lore and culture, along with a third-person recounting of Oscar's attempts at love, illustrate the brief and wondrous life of Oscar Wao.
It turns out, I was pretty wowed by this book. Despite the somewhat irritating spanglish and the lengthy footnotes and the fractured narrative and the fact that probably 50% of the book wasn't even ostensibly about Oscar, I was deeply moved. This disjointed narrative came together to paint a picture not just of Oscar, not just of a family, but of a generation, scarred and shaped by Dominican culture and the long-ago dictatorial exploits of Trujillo. It's really a story of fate and choice and the tension between the two.
Warning: This book is sexually explicit, violent, and abounding in expletives.
The Brief Wondrous Life of Oscar Wao, by Junot Diaz [rating:4]
Other Reviews:
Fizzy Thoughts
Care's Online Book Club
Things Mean A Lot
Books I Done Read
Scooter Chronicles
FOR THE PRESENT READER – A QUESTION
The term fuku is used repeatedly throughout the book. Do you think the de Leon family really was cursed? What role does the fuku play?
FOR THE PAST READER – A RESPONSE
I was bewildered by the unorthodox opening of the book. The first section read almost like a conversational textbook on Dominican history and terminology. Fuku is immediately introduced and defined as "a curse or doom of some kind; specifically the Curse and Doom of the New World." The fuku of the de Leon family and the Cabral family before it is oft referenced. Granted, things do go poorly for the characters. Every last one of the main characters ends up beaten to the brink of death in a cane field. The discussion of fuku prompts the question, "Are we fated for the lives we live or can we change our destinies?" Of course, like all good literature, the answer is not neatly packaged or even specifically proffered at all. In the end, though, I felt the book leaned toward choice – that we can choose how we react to the situations of life.
What do you think? Are some just destined to fail? Can your birthplace or the history of your parents decide the course of your life?