Midwife of the Blue Ridge, by Christine Blevins
I received this book for free from the publisher. All content and opinions are my own.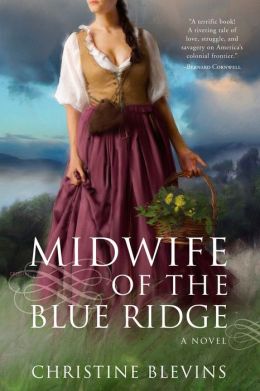 Welcome to today's stop on Christine Blevins's blog tour!
The main character of Midwife of the Blue Ridge is Maggie, who was orphaned after a brutal attack on her Scottish village. She is taken in by Helen, a midwife, who teaches Maggie her trade despite popular belief that "Dark Maggie" is bad luck. After Helen's death, Maggie decides to go to America as an indentured servant. After an eventful crossing, she is purchased by a family that lives in an essentially undeveloped portion of Virginia – on the Blue Ridge. Maggie's new life in America is filled with adventure from dejected dukes and savage Indians to the daily toils of frontier life and the prospect of love.
Blevins manages to create an amazing atmosphere in the newly settled America. I loved the details about homesteading and carving out an existence by sheer force of will. I was living there with Maggie, scratching out a living in the wild. The story was very compelling, if a little racy at times. I couldn't stop thinking about the world Blevins created, even after I finished the book. I would definitely recommend this book, especially to historical fiction buffs.
Midwife of the Blue Ridge, by Christine Blevins [rating:4]
Other Reviews:
Devourer of Books
Medieval Bookworm