Run, by Ann Patchett
I received this book for free from the publisher. All content and opinions are my own.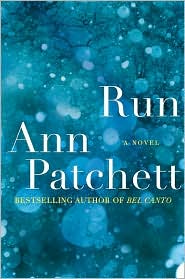 I received and read this book for the monthly online book club run by Gayle over at Everyday I Write the Book Blog. I first fell in love with Ann Patchett when I read Bel Canto and jumped at the chance to read Run.
This is the story of Tip and Teddy, two black brothers, who were adopted by Bernard and Bernadette Doyle. Bernadette died when the boys were still young, and Bernard, the former mayor of Boston, embraced the job of raising the boys with the hope that either or both of them would follow his footsteps into politics. Now, Tip and Teddy are in college. On the fateful snowy night around which the book centers, Tip, Teddy, and Bernard attend a lecture at Harvard. Afterwards, Tip is pushed out of the way of an oncoming SUV and all of their lives are changed forever.
Run is very layered and complex. But, in Patchett's hands, it flows along smoothly, opening up the reader's eyes page by page. The point of view shifts from character to character, and yet it doesn't feel choppy. The writing is beautiful and straightforward. Here's one of my favorite sentences:
"In suggesting that there may be nothing ahead of them, he in no way meant to diminish the future; instead, Father Sullivan hoped to elevate the present to a state of the divine."
While the writing shone, many of the interesting and difficult issues raised by the story seemed to be either pushed aside or dismissed with the easiest answer. I think I felt this way, at least in part, because some of the characters were a little flat. Still, it left me thinking. I love books that do that. And, the ending really touched me. This is a beautiful book that I highly recommend.
Download the Blue Leaf for Run here.
Run, by Ann Patchett [rating:4]
Other Reviews:
SmallWorld Reads
Everyday I Write the Book Blog
Medieval Bookworm
Fizzy Thoughts
Mango Missives