The Boy Next Door, by Meg Cabot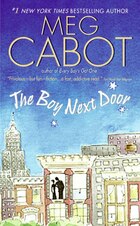 The Boy Next Door, by Meg Cabot, is told exclusively through emails, which is a fun update to epistolatory tales. 
Even though Mel lives in Manhattan and is a gossip columnist, she cares.  She cares enough to check in on her neighbor and discover her after a brutal attack.  She cares enought to assume the care of the neighbor's menagerie – at least for a while.  She cares enough to track down the neighbor's nephew.  The nephew, though, is too busy with a supermodel to come and care for his aunt's animals, so he sends an old college buddy, John, to move into the aunt's apartment and help with the animals.  Mel and John are thus thrown together, though their relationship takes some interesting turns.
Though formulaic, this simple tale is fun and relaxing. The email format is very entertaining, and the characters, while stereotypical, are loveable.  This is a perfect beach or fall read.
The Boy Next Door, by Meg Cabot [rating:3]