The Willoughbys, by Lois Lowry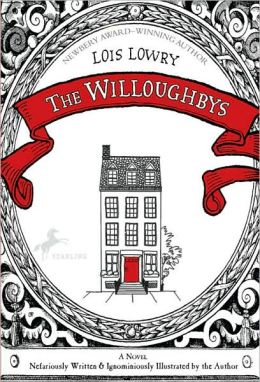 Lois Lowry has always been one of my favorite children's authors because of The Giver and Number the Stars. The Willoughbys, though, is a whole different story. It's a nod at old fashioned storytelling.
And a delightful nod it is. The Willoughby family consists of Mr. Willoughby, Mrs. Willoughby, Tim, Barnaby A and Barnaby B, and Jane. The children are old fashioned children. The parents are dispicable nefarious beings who despise their children. The children, too, aren't so fond of their parents and decide that they would fare better as orphans. The parents simultaneously decide they would fare better without children.
Complete with a chocolate maker and an odious nanny, this homage/parody of other famous children's books is hilarious at times. The writing is fun and clear, and the references to the other books are fun to pick up on. Lowry even ends the book with a cleverly written glossary and bibliography. Though parts of the story didn't quite come together for me, I would recommend it for a quick and old fashioned good time.
The Willoughbys, by Lois Lowry [rating:4]
Other Reviews:
Maw Books Blog
Presenting Lenore
Becky's Book Reviews
Book Nut