An Abundance of Katherines, by John Green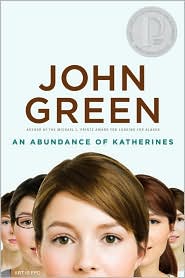 An Abundance of Katherines is one of the most charming books I've read all year. I loved Looking for Alaska, Green's first novel, and was not disappointed by his second. An Abundance of Katherines was a 2007 Printz honor book.
Colin Singleton, washed up child prodigy, has dated and been dumped by nineteen Katherines. Katherine XIX dumped him just days ago – right after graduation. Now he has a hole in his heart, $10,000 of game show money, a car named Satan's Hearse, and a best friend adept at avoiding life. Colin and Hassan therefore embark on a road trip that ends rather quickly in Gutshot, Tennessee, where they meet Lindsey Lee Wells and her mother Hollis. Staying in the Wells' Pink Mansion, Colin sets out to perfect The Theorem of Underlying Katherine Predictability and ends up with something better.
I just loved this book. It's delightful and charming and literate. Plus, there are footnotes! Funny ones. I laughed out loud throughout – and not just at the footnotes. The characters are all so lovable and real. I sometimes have a hard time relating to teenagers in books because they are often so stupid. These characters, while realistically flawed, are not stupid. They're just trying to figure it all out. It's a coming-of-age story like no other I've ever read. Except maybe Looking for Alaska, and Katherines is more light-hearted than that. I can't do it justice. You just need to read it.
An Abundance of Katherines, by John Green [rating:4]
This book qualifies for the Printz Project.
Other Reviews:
Library Queue
Book Addiction
Becky's Book Reviews
Things Mean A Lot
The Hidden Side of a Leaf
Fyrefly's Book Blog