College Girl, by Patricia Weitz
I received this book for free from the publisher. All content and opinions are my own.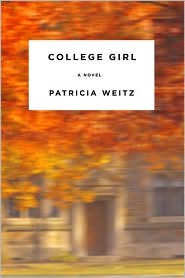 College Girl, by Patricia Weitz will be published on December 26, 2008.
Natalie is a senior at the University of Connecticut. She transferred to UConn after two years at a different state college. Though she gets almost straight As, she feels as if she doesn't quite belong. Her family – mom, dad, and six older brothers – is lower class and not all that enthralled with education. And, they haven't dealt with the suicide of their son and brother over a decade before. Still, Natalie has personality and is beginning to make friends. Then she meets Patrick. At first, their relationship is fun and flirty. Then Natalie convinces herself that she is not good enough for the rich and handsome aspiring writer, and her life begins to come crashing down.
This was a pretty readable book. Weitz's prose is unobtrusive and quick-paced. I raced through this book in less than twenty-four hours and enjoyed it – sort of. However, I felt too much distance from Natalie. I was so frustrated with her for allowing and inviting a man ruin her life. I wanted to scream at her for starting to smoke. I loathed her self-pity. In short, I despised her. While I'm sure that there are some girls that adrift in life and Weitz presents some possible explanations for her appalling behavior, I just couldn't enjoy this book as much as I wanted to.
College Girl, by Patricia Weitz [rating:2]
Other Reviews:
Muse Book Reviews
Presenting Lenore
The Book Zombie