The Thirteenth Tale, by Diane Setterfield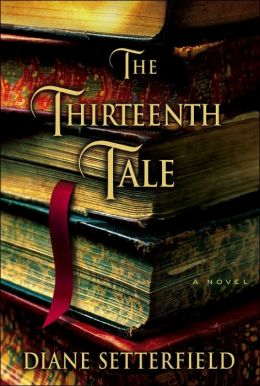 The Thirteenth Tale, by Diane Setterfield takes place in the world of books and writing. I love that world and will read most such books. I'm certainly glad I read this one.
Margaret Lea is a book lover and amateur biographer. She lives above her father's book shop in a little flat. She's all but estranged from her mother because of a family secret Margaret discovered as a little girl – she's a twin, and her twin sister is dead. At the opening of the book, Margaret receives a letter from Vida Winter, the most famous and secretive writer alive. Miss Winter invites Margaret to her estate to write her biography. Miss Winter promises to tell the truth, though she never has before.
I liked it a lot. The were twists and turns and writers and books. I loved the psychology of twins – and the corresponding togetherness or separateness – as it was explored here. The tale is compellingly told. I read parts of this book late at night and was a little chagrined to find myself frightened. I loved the references to Jane Eyre and other gothic tales. One of the most striking scenes, for me, was when Miss Winter posed the following hypothetical question to Margaret:
"Picture a conveyor belt, a huge conveyor belt, and at the end of it a massive furnace. And on the conveyor belt are books. Every copy in the world of every book you've ever loved. All lined up. Jane Eyre, Villette, The Woman in White."

"Middlemarch," I supplied.

"Thank you. Middlemarch. And imagine a lever with two labels, On and Off. At the moment the lever is off. And next to it is a human being, with his hand on the lever. About to turn it on. And you can stop it. You have a gun to your hand. All you have to do is pull the trigger. What do you do?"
What would you do?
And now to a couple complaints. I felt annoyed sometimes at the intertwined stories. Miss Winter's story would be involved and intense, and we'd drop back to Margaret's story. I felt frustrated with the change about half of the time. Also, when Miss Winter is telling her tale, there are parts of the story told that only an omniscient narrator would know. That kind of thing drives me crazy.
Still, this is a worthy read and one that my book club has been considering for a while. I think I'll recommend that we read it. And I recommend that you do too.
Thanks to Lisa @ Books Lists Life for giving me this book! This book counts for the R.I.P. Challenge. Also, as an aside, this was my 70th book of the year and my 200th post!
The Thirteenth Tale, by Diane Setterfield [rating:4]
Other Reviews:
Books Lists Life
Things Mean a Lot
Bold. Blue. Adventure
5-Squared
Melody's Reading Corner
A Girl Walks Into a Bookstore
Maw Books Blog
The Hidden Side of a Leaf
So Many Books, So Little Time
Trish's Reading Nook
Book-a-Rama
Becky's Book Reviews
Stuff as Dreams Are Made On
An Adventure in Reading
A Striped Armchair
Blogging 'bout Books
Musings of a Bookish Kitten
Reading Adventures
Stainless Steel Droppings