I, Lorelai, by Yeardley Smith
I received this book for free from the publisher. All content and opinions are my own.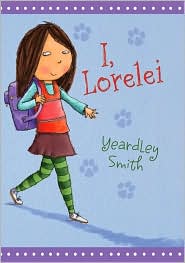 I, Lorelai is Yeardley Smith's first book. But you wouldn't be able to tell that from just reading it. (In addition to being an excellent writer, she's also the voice of Lisa on The Simpsons.) I, Lorelai will be released on January 27, 2009.
Lorelai is a eleven-year-old who begins writing a diary to her recently deceased cat, Mud, and also to her would-be biographers. Through two and a half months of the diary, we get a glimpse of a very difficult time in her life. Her parents are having problems. The mother seems to live in a bit of a fantasy world – constantly reliving her days as Wendy in the musical Peter Pan, and the father just quit his job as a partner at a law firm to make beer in the attic. In addition to the troubles at home, Lorelai is dealing with her first crush and her first acting gig in the school play. It's a lot for one eleven-year-old, but she handles it with pluck.
I thought this was excellent middle grade fiction. Lorelai's voice was a very believable eleven-year-old. Her reactions to things were realistic and age-appropriate. There was barely a hiccup in the writing. The plot was simple but with very believable and lovable characters. And, this is perhaps the best compliment I could give it, Smith's writing reminded me of Judy Blume and Sharon Creech. Think It's Not the End of the World and Totally Normal Chaos. I would recommend this book to all middle grade readers – well, mostly girls.
I, Lorelai, by Yeardley Smith [rating:4]