Paper Towns, by John Green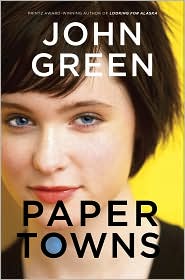 Paper Towns was my third (and final for now) adventure through John Green's books. And what a lovely adventure it was.
Quentin is about to graduate from high school.  As are, of course, his friends, Ben and Radar, and the-girl-next-door, Margo Roth Spiegelman.  Though Margo and Quentin have not run in the same social circles since elementary school when they discovered a dead body in the park, Margo appears at Q's window three weeks before graduation and drags him on an adventure through Orlando's night.  The next morning she runs away, leaving him clues as to where she's gone.  Q and his friends follow the clues left by Margo and find adventure, themselves, and hope for the future.
As always, John Green has built an unforgettable story with lovely, flawed, believable characters with whom I want to spend more time.  The principal clue Margo leaves is a copy of Leaves of Grass, by Walt Whitman, with the poem "Song of Myself" highlighted in different colors.  I love the time that Q puts into the poem's analysis.  I love the camaraderie among the friends.  I love the realistic portrayal of teenagehood.  One of the girls in the books asks Q, "Do you think I'm superficial?"  He answers, "Well, yeah.  But so am I. . . . So is everyone."  This book, though, isn't.
First Line: "The way I figure it, everyone gets a miracle."
Titular Reference: "It's a paper town.  I mean look at it, Q: look at all those cul-de-sacs, those streets that turn in on themselves, all the houses that were built to fall apart.  All those paper people living in their paper houses, burning the future to stay warm.  All the paper kids drinking beer some bum bought for them at the paper convenience store.  Everyone demented with the mania of owning things.  All the things paper-thin and paper-frail.  And all the people, too.  I've lived here for eighteen years and I have never once in my life come across anyone who cares about anything that matters."
Paper Towns, by John Green [rating:4] pp.305

Other Reviews:
Confuzzled Books
Fizzy Thoughts
It's All About Books
The Last Book I Read