The Tale of Despereaux, by Kate DiCamillo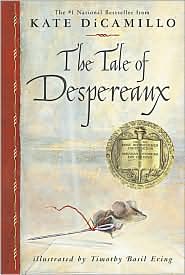 The Tale of Despereaux: Being the Story of a Mouse, a Princess, Some Soup and a Spool of Thread, by Kate DiCamillo was the winner of the 2004 Newbery Award. It has been made into a movie that will be released on December 19, 2008.
So, Despereaux is a mouse. A very small mouse with large ears, who lives in a castle in a kingdom where soup and rats are outlawed. And he doesn't like to do mouse things. He'd rather read fairy tales in the castle's library than scout for crumbs. One day, he is entranced by music and finds himself in the presence of the king and Princess Pea. This one meeting sets in motion events that lead to a death sentence, encounters with rats, and the kidnapping of the princess.
I liked this book a lot. It's short and conversational, with the narrator frequently addressing the Reader. There are adventures and morals and good examples. It's a classic good vs. evil tale. (I'll let you guess which wins.) And, for a kind of fairy tale, the characters are fairly well-rounded. The princess isn't all good, and the rats aren't all bad. The writing is simple, as is the plot. I would recommend this as a read-a-loud book for children or a quick read for adults. This is a great little book.
I read this book for the Lit Flicks Challenge, the Book Awards II Challenge, and the Newbery Project.
The Tale of Despereaux, by Kate DiCamillo [rating:4]
Other Reviews:
Book Escape
Fyrefly's Book Blog
Naked Without Books
Maw Books Blog
Becky's Book Reviews
1morechapter