Anne of Avonlea, by L.M. Montgomery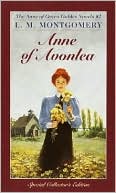 I got in a nostalgic mood a couple of weeks ago and raced through Anne of Avonlea and Anne of the Island.
Anne of Avonlea picks up directly where Anne of Green Gables left off. Anne has completed her time at Queens but has decided to forgo college to stay home and take care of Marilla. Instead of college, Anne starts work as the mistress of the Avonlea school and seeks to win over her pupils.  Early on in the book we discover that Marilla's cousin's wife is dying and leaving six-year-old twins. By and by Davy and Dora come to Green Gables and we get both an allusion to Anne coming to Green Gables and a peek at how Anne might be as a mother. A.V.I.S., the Avonlea Village Improvement Society, takes up much of the young people's time, and allows Anne and Gilbert and Diana to spend a lot of time together.  Like Anne of Green Gables, much of the book is made up of vignettes.
I loved this little installment, though I sometimes felt a little annoyed at the lack of plot. All of the little vignettes are lovely, but I wanted more movement and more about Anne and Gilbert.  Still, Avonlea is a delightful place and fans of Anne of Green Gables will love the return visit.
Anne of Avonlea, by L.M. Montgomery [rating:4]
My Other Anne Reviews: Anne of Green Gables | Anne of the Island
Other Reviews:
1 More Chapter
Becky's Book Reviews