Anne of the Island, by L.M. Montgomery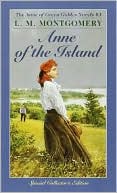 I got in a nostalgic mood a couple of weeks ago and raced through Anne of Avonlea and Anne of the Island.
Anne of the Island picks up directly where Anne of Avonlea left off. Anne has decided to go to college for her B.A.  She heads off to Redmond and has a lively first year with Priscilla, Gilbert, Charlie, and newcomer Phillippa Gordon. Anne faces some challenges – being away from Avonlea, a changing relationship with Diana, and numerous proposals – but she is up to the challenge.  Anne is older and wiser, but still delightfully naive.
I loved this installment of the Anne books.  I noticed, though, that the plot clearly follows that of Pride and Prejudice.  I can't tell for sure if Montgomery did it intentionally or not.  I think it might be an homage to that great story.  In any case, this book is definitely Anne and Gilbert's.  I loved it for that alone.
Anne of the Island, by L.M. Montgomery [rating:4]
My Other Anne Reviews: Anne of Green Gables | Anne of Avonlea
Other Reviews:
Becky's Book Reviews
Book-a-Rama