Forever, by Judy Blume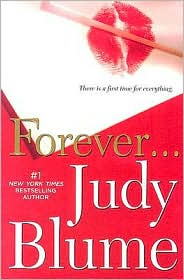 I was shocked to realize that I'd missed one of Judy Blume's novels for young adults. I was then surprised to find that my local library didn't even own a copy. A ha. Scandal. It's a book about sex. Originally published in 1975.
Katherine and Michael, seniors in high school, meet at a New Year's Eve party.  They begin dating and soon encounter the issue of sex.  Katherine is a virgin; Michael isn't.  Sex is presented as more of a emotional issue than a moral issue.  They ultimately progress through stages of physical intimacy and believe that their love will last forever.
I have a split view of Forever.
View #1 – This book has been banned from libraries, and I can see why it makes people uncomfortable.  It is a blunt look at teenage sex.  While I wouldn't feel comfortable having my teenager read this book, I do think its frankness is refreshing and provides an interesting and oft unheard point of view.
View #2 – I thought the writing and story were overly simplistic.  Michael seemed to just want Katherine for sex; their relationship is not explored outside of the sexual context.  Each of their dates seems like an excuse for being alone and having sex.  I also felt like Michael put undue pressure on Katherine to have sex.
In sum, adults might find this an interesting perspective on teen sex.  But teenagers probably shouldn't read this without parental or adult supervision and discussion.
Forever, by Judy Blume [rating:3]