Matrimony, by Joshua Henkin
I received this book for free from the publisher. All content and opinions are my own.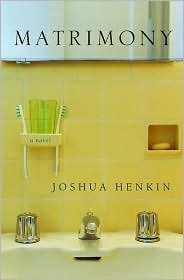 When Joshua Henkin contacted me to see if I would be willing to review Matrimony AND host a holiday giveaway, I jumped at the chance! Matrimony was a 2007 New York Times Notable Book and has been getting great buzz on blogs I trust. It turns out the buzz was well earned.
THE BOOK
Julian Wainwright has arrived at college. He wants to be a writer, so he's at Graymont College – rather than Yale, his father's alma mater – to study under Professor Stephen Chesterfield. During freshman year he meets his best friend Carter Heinz and his wife-to-be Mia Mendelsohn. The book traces Julian from freshman romance to newly married, from unpublished writer to writing professor to Iowa Writers' Workshop participant. It's a realistic portrayal of married life that takes place in the fascinating world of academia.
I was very compelled by Julian's story. I like that it showed a progression from college naivete to "settling down" into married life to midlife crisis. The characters were very interesting and well drawn, though I felt a little removed from them. I couldn't tell whether it was the third person narration or what. Perhaps it's as Janet Maslin noted in The New York Times, "this book takes a long view of [the characters] and sees that they are not easily thrown by even the most seemingly important crises." In any case, this is a well-written, thought provoking book that is at once a bildungsroman, an exploration of what it means to be married, and a tale of one writer's journey.
I would definitely recommend Matrimony. In fact, I think this book would be an excellent Christmas gift and an excellent book club selection. Henkin is willing to participate in book club discussions and there's an excellent reading group guide available for download. I think you'll enjoy this one.
Matrimony, by Joshua Henkin [rating:4]
Other Reviews:
Age 30+ – A Lifetime of Books
B&B Ex Libris
Bermudaonion's Weblog
Blue Archipelago
Book Addiction
Book Club Classics
Bookfoolery and Babble
Booking Mama
Bookroom Reviews
Books and Cooks
Books on the Brain
Care's Online Book Club
Hey Lady! Whatcha Readin'?
In Spring it is the Dawn
Musings of a Bookish Kitty
Reading Room
She is Too Fond of Books
Shelf Life
The Boston Bibliophile
The Hidden Side of a Leaf
The Inside Cover
The Literate Housewife
Michelle's Reading Room
SMS Book Reviews
The 3 R's: Reading, 'Riting, and Randomness
Trish's Reading Nook
THE AUTHOR
Joshua Henkin is very active in the book blog community, has a cool website, and has done numerous guest posts around the blogosphere. Check them out:
Books on the Brain
Planet Books
Musings of a Bookish Kitty
The Elegant Variation (several posts)
Also check out this video of him talking about Matrimony.
THE GIVEAWAY [NOW CLOSED]
In Matrimony, Julian's first novel is not given a title. To win a signed copy of Matrimony, please leave a comment on this post with a creative title for a novel – yours or Julian's. I'll announce the winner next week. The giveaway is open to anyone, anywhere in the world.