The Mighty Queens of Freeville, by Amy Dickinson
I received this book for free from the publisher. All content and opinions are my own.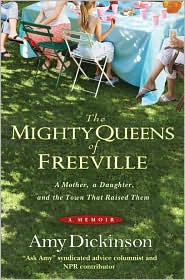 Amy Dickinson, the author of The Mighty Queens of Freeville: A Mother, A Daughter, and the Town That Raised Them, is probably best known for her advice column, "Ask Amy," which replaced Ann Landers's column in the Chicago Tribune.
In this memoir, Dickinson traces her life from her divorce to being chosen as the next Ann Landers.  I liked Dickinson's voice quite a lot. The writing is unassuming and clear. The stories were entertaining. Yet, it seemed like I was getting a look at the stories Dickinson is used to and willing to tell about her self. I didn't feel like I truly got to know her as a person she is, rather than the person she wants me to see. Also, though her daughter Emily makes the subtitle, there are only minor anecdotes about Emily in the book.  And even in those stories, there is no action, only aftermath.  While I understand protecting some details, the stories all seemed a little superficial.
Overall, the flow of the book was good – most of the stories were in chronological order. But there were a few chapters that were subject based that confused the timeline for me. For example, one of the chapters is a pontification on animals, with a story about the death of a cat. Then the story of the book continues on and the cat is suddenly back alive. Such narrative jumps took me unnecessarily out of the story.
I did like the theme of strength in family, though I think men were placed, as a whole, in an unfair light. For example, Dickinson blames her divorce entirely on her ex-husband.
Despite some complaints, I enjoyed this book and I now have an appreciation for Dickinson. I'll pay more attention to "Ask Amy" in the future, which was probably the point of the book anyway.
The Mighty Queens of Freeville, by Amy Dickinson [rating:3]
Other Reviews:
Medieval Bookworm
Cheryl's Book Nook
Bermudaonion's Weblog
[Giveaway Closed] I'm giving away my ARC of this book.  To enter the drawing, leave a comment providing your hometown.  I'll pick a winner next week.