The Tales of Beedle the Bard, by J.K. Rowling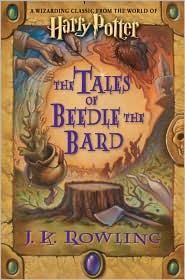 As a Harry Potter aficionado, I had no choice but to devour The Tales of Beedle the Bard.
The five tales are newly translated from the original runes by Hermione Granger and annotated by the late Albus Dumbledore.  J.K. Rowling has added additional footnotes to ease muggles' passage through the book.
The Wizard and the Hopping Pot – The most PC of the bunch, this story is about an old wizard who liberally uses his magic to assist muggles and his resentful descendants.
The Fountain of Fair Fortune – Perhaps the happiest of the tales, this one centers on a fountain where one person may bathe each year and have his or her problems solved.
The Warlock's Hairy Heart – By far the most graphic, this story revolves around a warlock who decides, after viewing the idiocy of those so afflicted, to never fall in love.
Babbitty Rabbitty and Her Cackling Stump – Reminiscent of Ramses's desperation in the Bible, this story involves a power-hoarding king and the clever witch who outsmarts him.
The Tale of the Three Brothers – The story actually featured in Harry Potter and the Deathly Hallows, this story tells the tale of three brothers granted one wish each by Death.
Each of the five stories, except "The Warlock's Hairy Heart," is referenced in Harry Potter and the Deathly Hallows.  The tales are all very detailed and smack of fairy tales we already know without being derivative.  However, while the stories are extremely creative and well-written, the book "would be unremarkable were it not for the body of work that lies behind it." And, there is a lot of padding and white space in the little book.  In all, it was a little weak as a book, but Harry Potter fans will enjoy this bonus peek into the forklore of that magical world.
The Tales of Beedle the Bard, by J.K. Rowling [rating:4]
Other Reviews:
Reading is My Superpower
Kittling: Books
Rebecca Reads
The Novel World
Age 30+ . . . A Lifetime of Books
Melody's Reading Corner
The Bluestocking Guide
Things Mean A Lot