American Rust, by Philipp Meyer
I received this book for free from the publisher. All content and opinions are my own.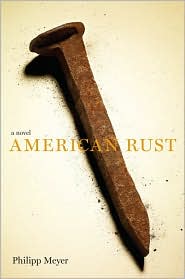 American Rust by Philipp Meyer was released today!  And, you should obtain a copy for yourself post haste.
Isaac English and Billy Poe are unlikely friends.  Isaac is brilliant.  He should be at an Ivy League university like his sister, but he's stuck in Buell, Pennsylvania caring for his disabled father.  Billy Poe is the jock.  He should be playing college football, but he's stuck in Buell too – by his own inertia.  These two are in the wrong place at the wrong time and a man ends up dead.  This sets off a sequence of events that changes Isaac, Billy, and the town of Buell forever.
American Rust is set in the depressed steel towns that collapsed in the 80s and 90s.  Buell is one of those towns, and it's full of depressed people who are clinging to existence, remembering the glory days when workers thronged to the mills to earn $30 a hour.  
I thoroughly enjoyed this book.  It's raw and it's real.  It feels like it is set in the 1940s, though it's set in the present.  The writing is beautiful, and the people are real – as are the all but abandoned steel towns. The point of view jumps from character to character, which is sometimes disconcerting but helpful in rounding out the story.  The plot is strong, but it was the ideas and the language that captivated me:
"And then came the eighties, and then it wasn't just that we lost all those jobs, it was that people didn't have anything to be good at anymore."  He shrugged. "There's only so good you can be about pushing a mop or emptying a bedpan.  We're trending backwards as a nation, probably for the first time in history, and it's not the gays and the kids with the purple hair.  Personally I don't care for it, but those things are inevitable.  The real problem is the average citizen does not have a job he can be good at.  You lose that, you lose the country."
The feel, the tone of American Rust reminded me something akin to John Steinbeck's The Grapes of Wrath or Michael Ondaatje's In the Skin of a Lion.
American Rust, by Phillip Meyer [rating:4]
Other Reviews:
Back to Books
Cheryl's Book Nook
Devourer of Books
A Lovely Shore Breeze
Medieval Bookworm