Fantastic Mr. Fox, by Roald Dahl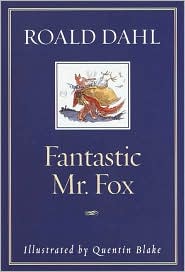 Title: Fantastic Mr. Fox
Author: Roald Dahl
Pages: 96
Publisher: Knopf Books for Young Readers
Copyright: 1970
Format: Hardback
Rating: [rating:3]
____________________________
Mr. Fox and his family live near three farms owned by three vile, disgusting, and cruel farmers.
Boggis and Bunce and Bean
One fat, one short, one lean.
These horrible crooks
So different in looks
Were nonetheless equally mean.
Mr. Fox goes out every evening and fetches his family's dinner from one of the three farmers. The corrupt and aggitated farmers determine to cease everything until they've killed Mr. Fox. Sly (or should I say fantastic?) Mr. Fox, though, with the help of Mrs. Fox, his four Small Foxes, and the rest of the underground animal gang outsmart those nasty farmers.
Roald Dahl is one of my favorite authors of all time. Fantastic Mr. Fox, while not my favorite of his oeuvre, does not disappoint. This fun little book is recommended for kids ages 4-8. I think I would agree with that. There is probably not enough plot here to keep older kids as entertained. The strength of this book is the fun and exaggerated traits of the vile farmers and the vivid details plucked from Dahl's mind.
A film of Fantastic Mr. Fox, directed by Wes Anderson, is currently in production.
Fantastic Mr. Fox, by Roald Dahl [rating:3]
Other Reviews:
Back to Books
Maw Books Blog