Note to Self, by Samara O'Shea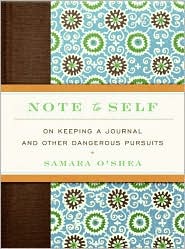 Title: Note to Self: On Keeping a Journal and Other Dangerous Pursuits
Author: Samara O'Shea
Pages: 192
Publisher: Collins Living
Copyright: 2008
Format: Hardcover
Rating: [rating:4]
____________________________
I read this book with Care from Care's Online Book Club for the Try Something New Mini-Challenge hosted by Nymeth as part of Dewey's Book Challenge.  Care and I will be posting a collaborative wrap-up post in the next few days.  (I hope.)  Anyway, on to my review.
O'Shea takes the topic of journaling and creates a hybrid memoir/textbook-ish book. The essential thesis is that journaling honestly can be a kind of self-therapy. It can help you learn from your mistakes, to set goals, and to evaluate where you are now. The book is divided topically into sections like "Romance on Record," "Hearts that Hurt," "While You Were Sleeping," and "A Day in the Life." There's even a section on blogging as journaling – "All the News that's Fit to Blog." In each section, O'Shea gives tips about how to explore and journal about the subject honestly and then gives examples from her own journals.
This method is highly effective. O'Shea assumes that you know how to purchase a journal and a pen (or a computer), and she just jumps right into how to make your journal personal, enlightening, and rewarding. The two primary "take-away" things I learned from this book are related: (1) repeal all "rules" you've inflicted upon yourself about journal writing and (2) write honestly. O'Shea says:
A journal is one of the only places where no one can judge you, and it should also be a place where you are not judging yourself. It's difficult to do that when you're already criticizing yourself for falling short of the process, so I invite you to dismiss everything you think a journal should be from your mind. Your journal is an extension of you, and therefore it can be whatever you want it to be.
According to the book, if you are brutally honest in your journal, you'll be able to use your entries in a variety of ways. I loved O'Shea's interpretation of prior journal entries as remnants of our "prior selves." Keeping a journal is a good way to keep a semblance of your 16-year-old self and your college-freshman self and your newly-married self, etc. I love this idea, and it inspires me to put more of me on paper.
In all, I really enjoyed this short, honest, and personal look at journaling. I must say that each night I read a little of this book, I was compelled to also spend a little time with my journal. Now that is the best praise I can give this gem of a book.
Note to Self, by Samara O'Shea [rating:4]
Other Reviews:
Care's Online Book Club
Estella's Revenge