Cathy's Ring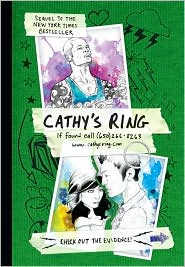 Title: Cathy's Ring
Author: Sean Stewart & Jordan Weisman
Pages: 157 (ARC)
Publisher: RP Teens
Publication Date: May 4, 2009
Format: Hardcover
Rating: [rating:3]
____________________________
I received this book for free from the publisher. All content and opinions are my own.
Running Press sent this book to me as a preview of their 2009 teen lineup. I devoured it on New Year's Eve as my last read of 2008. Cathy's Ring is the third book in the Cathy series – an interactive, graphic novel-esque set of books. Here's the plot summary from the publisher:
Cathy cannot manage to find more than a few days to relax in her hectic (and mortal) life—she barely has time to put the mystery surrounding her father to rest before she finds herself targeted by a group of Ancestor Lu's professional killers! Recognizing she is a serious threat to everyone in her life, Cathy makes plans to leave town. But her friends, Emma, Pete, Victor, and, surprisingly, Jun, unite to convince Cathy that they must finish Lu once and for all to have any chance at peace—mortal or immortal. In order to defeat Lu, the friends must come together in a way they never have before. Meanwhile—unbeknownst to Cathy—Victor has made the ultimate sacrifice hoping it will bring him closer to a normal relationship with Cathy. But when Victor is seriously wounded and Cathy finds herself attracted to another mortal with similar feelings for her, Cathy's world turns upside down and she is forced to make a decision about her future with Victor, while his life hangs by a thread. What will Cathy decide, and how will their epic battle with Lu play out? Find out in the newest adventure-packed installment of the Cathy story!
I must admit that I have not read the first two installments in this series. For the most part it didn't matter, but there were several references that I knew I didn't fully understand. You might want to start with Cathy's Book.
In all, this was an engaging book. The plot carried me right along. The characters were decent, if a little flat. However, I didn't really feel that the sketches and graphic elements added anything to my reading of the book. Also, I was disappointed that the website and phone number listed on the front of the book did not work – though that may be remedied with the book's upcoming publication. I think the interactive/notebook style would appeal to many teens, it just wasn't for me.
Cathy's Ring, by Sean Stewart & Jordan Weisman [rating:3]
GIVEAWAY [NOW CLOSED]. I've giving away my ARC copy of Cathy's Ring. If you'd like to be entered to win it, please leave a comment below (and an email address). I'll randomly select a winner on Monday.