Speak, by Laurie Halse Anderson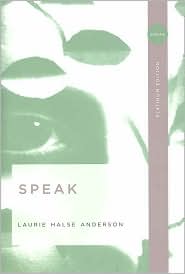 Title: Speak
Author: Laurie Halse Anderson
Pages: 198
Publisher: Penguin Group
Copyright: 1999
Format: Paperback
Rating: [rating:4]
____________________________
Melinda Sordino is a social pariah. She called the cops in the middle of a summer party – the death of her social life and the end of a traumatic event. She's just started her freshman year of high school, but she might as well have stayed home. Except that her home life isn't so great either. She takes to silence as a way to cope with her pain. Slowly, the reader gets to know Melinda and her painful secret.
This books is perhaps the best incarnation of "show don't tell" that I've ever seen. Also, Melinda is one of the most realistic teenage characters I've ever met. Here's an excerpt that shows her internal voice:
They herd us into an assembly that is supposed to be a "democratic forum" to come up with a new school mascot. Who are we? We can't be the Buccaneers because pirates supported violence and discrimination against women. They kid who suggests the Shoemakers in honor of the old moccasin factory is laughed out of the auditorium. Warriors insults Native Americans. I think Overbearing Eurocentric Patriarchs would be perfect, but I don't suggest it.
The literary devices in this book are plentiful and executed flawlessly. There are lists and subtitles and grades and unconventional dialog. It all worked really well. This was a dark book, overall, but it was funny and tender too. My only complaint is that the ending was a little too, well, convenient. Still, this is a great book that I would recommend to teens and adults. I look forward to reading more by Anderson.
Speak, by Laurie Halse Anderson [rating:4]
Other Reviews:
An Adventure in Reading
Becky's Book Reviews
Book Addiction
Books on the Brain
The Hidden Side of a Leaf
The Joy of Reading
The Last Book I Read
Maw Books Blog
The Story Siren