Strawberry Girl, by Lois Lenski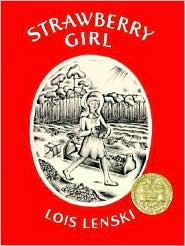 Title: Strawberry Girl
Author: Lois Lenski
Pages: 194
Publisher: Harper Collins
Copyright: 1945
Format: Hardback
Rating: [rating:3]
____________________________
I picked up Strawberry Girl because it won the 1946 Newbery Award.
Birdie Boyer and her family have moved down to southern Florida to start a farm. But they've got very different ideas about things than the neighbors, the Slaters.  The Boyers and the Slaters butt heads from the beginning about everything from open pastures to planting crops. This whole story is very "regional" and takes place around the beginning of the 20th century.  Here's a sample from the first chapter:
"I got me an orange tree," said Birdie, " 'bout so high." She raised her hand to a height of about three feet.  "I planted a bunch of seeds from an orange once.  This seedling was the strongest – it come from the king seed.  We brung it along with us and I planted it where the water drips from the pump.  Soon I'll be pickin' my own oranges!"

"Yes, soon we'll be pickin' oranges to sell," added her mother.

"To sell?" asked Mrs. Slater in surprise.

"Yes, ma'am. We're studyin' to sell oranges and strawberries and sweet 'taters and sich and make us a good living'."

"Sell things? Messin' with things to sell?" said Mrs. Slater. "Then you'll purely starve to death.  Why, nothin' won't grow here in Floridy.  The only way we-uns can get us a livin' is messin' with cows and sellin' 'em for beef."
I was propelled by this story to see if Birdie and her family would win out over the Slaters and nature. So there is a good amount of tension. Birdie is also a pretty believeable ten-year-0ld.  However, I believe that I would have liked this book better if I had read it as a child. It's episodic, and its about an fascinating time period and part of the country.  Overall, it was interesting, but just didn't have enough to make it really enjoyable as an adult.
Strawberry Girl, by Lois Lenski [rating:3]