Hotel on the Corner of Bitter and Sweet, by Jamie Ford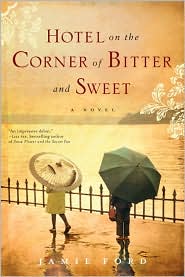 Title: Hotel on the Corner of Bitter and Sweet
Author: Jamie Ford
Pages: 290
Publisher: Ballantine Books
Copyright: 2009
Format: Hardback
Rating: [rating:4]
____________________________
I received this book for free from the publisher. All content and opinions are my own.
Welcome to today's stop on Jamie Ford's blog tour for his debut novel, Hotel on the Corner of Bitter and Sweet. Now that I've read the book, I'm so sad that Ford was in my town in February, and I missed it! At least I now have the pleasure of hosting him here.
It's 1986 and Henry Lee has recently buried his wife, Ethel. He's walking along the streets of Seattle when he notices a commotion in front of the Panama Hotel. After years of neglect, someone is renovating it, and it is thus discovered that the basement is filled with the belongings of local Japanese families who were interned during World War II. When Henry sees one of the Japanese umbrellas, he's transported back to 1942. He was a twelve year old Chinese American in 1942. His father was a Chinese nationalist who followed the war on the Pacific front with religious zeal. He has Henry wear an "I am Chinese" button everywhere, won't even allow Henry to speak English at home, and sends Henry to an all-white school. Then, a Japanese girl, Kieko arrives at the school, changing Henry's life forever. The storyline jumps back and forth between 1942 and 1986, telling the tale of Henry's life and his relationship with Keiko.
I was drawn into this book immediately. The story is sweet and the characters unassuming. The writing flows seamlessly along. It's hard to believe that this is Ford's first novel – it's that refined. Here's a character description I particularly enjoyed:
And Mrs. Beatty, the lunch lady, wasn't much help either. A gassy, hairnet-wearing definition of one of Henry's favorite American words: broad. She cooked by hand, literally, measuring everything in her dirty, wrinkled mitts. Her thick forearms were evidence that she'd never used an electric mixer. But, like a kenneled dog that refuses to do its business in the same place it sleeps, she never ate her own handiwork. Instead, she always brought her lunch. As soon as Henry laced up his apron, she'd doff her hairnet and vanish with her lunch pail and a pack of Lucky Strikes.
And the rest of it is even better. I have but two minor complaints: a seemingly blaring anachronism in the first chapter (Henry's son is in an "online support group" in 1986) and sometimes the jumping back and forth between eras was disconcerting. On the whole, though, this is an enjoyable and evocative book. I loved the layers of story. There is the larger story about the internment of the Japanese – a little explored period of time in American history. And that larger story is explored through the deeper and personal story of Henry and Keiko. It's lovely and bitter and sweet.
Hotel on the Corner of Bitter and Sweet, by Jamie Ford [rating:4]
Click here to read an excerpt.
Other Reviews:
At Home with Books
A Comfy Chair and a Good Book
Devourer of Books
Fashionista Piranha
Hey Lady! Whatcha Readin'?
In the Shadow of Mt. TBR
Medieval Bookworm
Melody's Reading Corner
Musings of a Bookish Kitty
The Novel World
Stephanie's Written Word