It Sucked and Then I Cried, by Heather B. Armstrong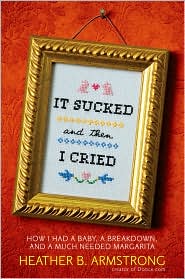 Title: It Sucked and Then I Cried: How I Had a Baby, a Breakdown, and a Much Needed Margarita
Author: Heather B. Armstrong
Pages: 272
Publisher: Simon Spotlight Entertainment
Copyright: 2009
Format: Hardback
Rating: [rating:4]
____________________________
I've been an avid reader of Dooce for over a year. I'm addicted to that blog. It makes me alternately laugh out loud, purchase new, funky items, and tear up with emotion. So, when everyone at work was talking about the book written by the Dooce creator, Heather B. Armstrong, I knew I had to read it.
For those of you not addicted to Dooce, Armstrong has been a blogger for almost ten years. She actually got fired from a job because of the items she posted about that job. (Now getting fired because of internet content is called being "dooced.") Anyway, Armstrong was raised in Tennessee as a member of The Church of Jesus Christ of Latter-day Saints (Mormon), graduated from Brigham Young University, rebelled, eventually eloped with her husband Jon, relocated to Utah, and had a baby, Leta. It Sucked and Then I Cried is about an eighteen-month period in Armstrong's life – the nine months of pregnancy and the nine-month aftermath.
I must say that Armstrong is hil-ar-i-ous. Truly funny. She sees the world in a skewed way. I laughed out loud throughout. Out loud. In public places. Just a warning. Perhaps this is best read at home. Here's a little taste of the hilarity. This is number one on the list of things Armstrong learned in the first week as a parent:
A good day was defined entirely by personal hygiene.  Brushing my teeth = pretty good day.  Brushing my teeth + brushing my hair = I was doing really good.  Brushing my teeth + brushing my hair + taking a shower = WORLD DOMINATION.  I believed that if I could get all the way to putting on mascara that I'd be magnificent enough to create my own planet and populate it with bears.
See what I mean? And that is mild hilarity.  You'll find all ranges of hilarity in this book.  Now, I must say that, though I thoroughly enjoyed the book, it did suffer from some common memoir issues. There were a lot of non-sequiturs. A lot of them – though most of them didn't bother me until I went back and reread sections. And, the general plot arch was a little flat. For example, there was a lot of build up to Armstrong's hospitalization for postpartum depression, but then very little detail or anecdotes about it. It was a bit of a let down, simply because of the build up. Also, the repeated banging and hollering about Mormons and Republicans got old really fast. And, because of her avid descriptions, I'm now petrified to have a baby.
Still, this was a very honest, thoughtful book. Probably the best memoir I've ever read. I highly recommend it and Dooce.
It Sucked and Then I Cried, by Heather B. Armstrong [rating:4]
Other Reviews:
Confuzzled Books