The Last Queen, by C. W. Gortner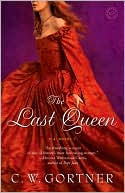 Title: The Last Queen
Author: C. W. Gortner
Pages: 365
Publisher: Ballantine Books
Copyright: 2006
Format: Paperback
Rating: [rating:3]
____________________________
I received this book for free from the publisher. All content and opinions are my own.
Welcome to today's stop on C.W. Gortner's blog tour for The Last Queen.
Juana is the second oldest daughter of Isabel and Ferdinand, Queen and King Consort of Spain. Isabel and Ferdinand have conquered the Moors and united Spain, and they have political ambitions that involve marriages between their children and various royal families in Europe. Juana has been betrothed to Philip, heir to the Hapsburg Empire. Though she initially finds happiness in Flanders with Philip, nothing goes quite as planned, and she is shortly forced to battle for her right to rule Spain.
I was obsessed by this book. I stayed up waaay past my bedtime on a weeknight, racing through pages. At work, I anticipated going home and getting back to it. I was entranced by Juana's story and could not wait to see how it ended.
As you might gather, I knew nothing of Juana la Loca before reading this book. Juana was a fascinating character, and her life was extraordinary. It's amazing one woman, a queen no less, suffered so much. But her tribulations were actually why I ended up with misgivings about this book. Her life was pretty tortured and sad. Sad. Really really sad. In fact, so sad that about three-quarters of the way through, I just kind of lost the ability to focus on all the sadness.  The flow of the novel was too bumpy.  
But Gortner's prose is largely fluid (notwithstanding a few random modern and out-of-the-blue thoughts from Juana), and the character development of Juana is engrossing. And the research that went into this had to have been crazy. (There is a very helpful and informative afterword that explains, to some extent, what is real and what is fictional and where to go for additional information.) Here's a glimpse of the prose and Juana's character from the beginning of the book, after the fall of Granada:
I looked at my mother, marked the satisfaction in the hard set of her lips. She knew. She had planned this. By granting mercy when he least expected it, she had destroyed the Moor's soul.

His face ashen, Boabdil came to his feet. Burned earth clung to his knees.

The lords closed in around him, leading him away. I averted my eyes. I knew that if he'd been victorious, he would not have hesitated to order the deaths of my father and my brother, of every noble and soldier on this field. He'd have enslaved my sisters and me, defamed and executed my mother. He and his kind had defiled Span for too long. At last, our country was united under one throne, one church, one God. I should rejoice in his subjugation.

Yet what I most wanted to do was console him.
If you like historical fiction, especially books with royal flare, (and if you can handle the sad), you'll likely enjoy this offering from C. W. Gortner. It was just a little too much sad for me.
The Last Queen, by C. W. Gortner [rating:3]
GIVEAWAY. I'm giving away my (now used) copy of this page-turner to one lucky winner. To enter just leave a comment on this post. Mention that you are a subscriber of this blog for two extra entries. U.S. and Canadian addresses only please. Random.org will select a winner on Monday, May 25, 2009. Good luck!
Guest Post by C. W. Gortner
Another Guest Post by C. W. Gortner
Other Reviews:
Books on the Brain
Devourer of Books
A Girl Walks Into a Bookstore
Jo-Jo Loves To Read
Medieval Bookworm
Muse Books Reviews
Popin's Lair
S. Krishna's Books
Ticket to Anywhere