The Midwife's Apprentice, by Karen Cushman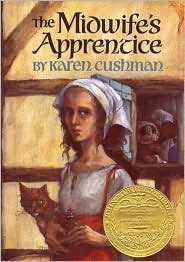 Title: The Midwife's Apprentice
Author: Karen Cushman
Pages: 128
Publisher: Clarion Books
Copyright: 1995
Format: Hardback
Rating: [rating:3]
____________________________
I picked up The Midwife's Apprentice from the library because it won the Newbery Medal in 1996.
Our protagonist is nameless, homeless, and hungry. She finds shelter in a village, in the dung heap of the village's midwife, Jane Sharp. Jane is sharp, greedy, and often a little cruel. But, by and by, or protagonist names herself Alyce, learns the trade of a midwife, and gains some self-esteem. However, when her first solo attempt at midwifery fails, she flees all she has come to know.
The voice and tone of this book make me understand why the ALA gave this book the Newbery Award. Here's a sample where Alyce is known as Beetle (after a dung beetle):
If Beetle had known any prayers, she might have prayed for the cat. If she had known about soft sweet songs, she might have sung to him. If she had known of gentle words and cooing, she would have spoken gently to him. But all she knew was cursing: "Damn you, cat, breathe and live, you flea-bitten sod, or I'll kill you myself."
The medieval setting is well-drawn without calling attention to itself. The characters, also, are well-drawn, and the plot moves along quickly. My only real complaint is the final act where Alyce must learn to face her fears. I wont say too much, but Alyce's epiphanies seem to come out of nowhere. The book shifts suddenly from challenging to happy ending without an accompanying battle. So, not my favorite Newbery winner. Still, like I said, the writing is superb and the story interesting. Plus, this is a short little book I managed to polish off in about an hour. I would recommend this one primarily for kids.
The Midwife's Apprentice, by Karen Cushman [rating:3]
Other Reviews:
Maw Books Blog
Rebecca Reads