No One You Know, by Michelle Richmond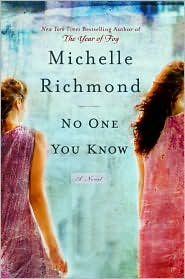 Title: No One You Know
Author: Michelle Richmond
Pages: 320
Publisher: Delacorte Press
Copyright: 2008
Format: Hardback
Rating: [rating:3]
____________________________
I received this book for free from the publisher. All content and opinions are my own.
When Michelle Richmond contacted me and asked if I'd be interested in reviewing her latest book, No One You Know, I of course jumped at the offer. No One You Know was released in paperback a couple of weeks ago.
Ellie Enderlin's math genius sister Lila was murdered twenty years ago. Ellie has not been able to move on in part because her confidante and English professor turned the story into a bestselling true crime novel -without telling her. Now a forty-something coffee buyer, Ellie has a chance meeting with Peter, Lila's lover and possible killer. The encounter leads Ellie to question everything she has come to believe about her sister's death and her life since the murder.
I liked this book. The writing is solid and organic. The plot moved along swiftly, and I didn't want to put it down. And yet, it just didn't quite come together for me. When I put the book down, I mostly forgot about it. Still, I recently loaned my copy to my aunt, who read it quickly and enjoyed it.
I'd recommend this book as a quick and intelligent reading experience with a little mystery flare.
No One You Know, by Michelle Richmond [rating:3]
Other Reviews:
Presenting Lenore
A Striped Armchair