The Actor and the Housewife, by Shannon Hale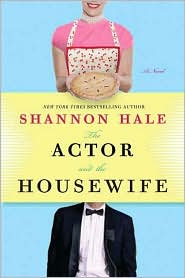 Title: The Actor and the Housewife
Author: Shannon Hale
Pages: 352
Publisher: Bloomsbury
Copyright: 2009
Format: Hardback
Rating: [rating:4]
____________________________
I received this book for free from the publisher. All content and opinions are my own.
I feel a special bond with Shannon Hale. I've read most of her books. She is a local Utah author. I obsessively read her blog. And I've met her. So, I was ecstatic to receive an ARC of her latest book, The Actor and the Housewife.
Becky Jack, married Utah mother of three, almost four, is in L.A. to sell her romantic comedy screenplay. And in walks Felix Callahan. Felix Callahan is Becky's movie crush, her romantic ideal. After a series of coincidences, she and Felix end up at a hotel restaurant together. And the rest, as they say, is history.
Is it too cliche to say that this is "a delightful romp"? Well, it is. So delightful and funny and charming and heartfelt and any number of other overused adjectives. I didn't want this book to end. I wanted Felix as a friend. (In fact, my husband and I had a conversation about the potential ramifications of having a famous, opposite sex best friend.) If you like Shannon Hale, or are just in the mood for a light and fun book, you'll love The Actor and the Housewife.
The Actor and the Housewife, by Shannon Hale [rating:4]
Other Reviews:
Book Nut