Everyone is Beautiful, by Katherine Center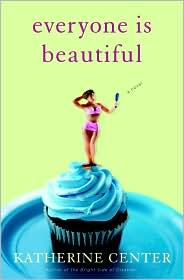 Title: Everyone is Beautiful
Author: Katherine Center
Pages: 256
Publisher: Ballantine Books
Copyright: 2009
Format: Hardback
Rating: [rating:4]
____________________________
I read this book for my new book club. And every single person in the group liked or loved this book. In fact, one member found it to be a life-changing experience.
Lanie Coates, her husband Peter, and their three young children have just moved from Texas to Massachusetts so Peter could get a graduate decree in piano composition. Lanie is consumed by her children and finally takes drastic steps to get her old self back, not realizing that such steps may have unanticipated consequences.
I really enjoyed this book. It is undoubtedly well-written. In fact, I found myself noting the page numbers of passages that particularly appealed to me. Here are a couple of my favorites:
On taking credit for children: "That was the tricky part. You poured inordinate amounts of time and attention and affection into your kids, but the result was indirect. You didn't point out a cat to your one-year-old and then watch him, minutes later, say 'Cat.' Instead, you pointed out a hundred cats to your one-year-old and then, one day, watched him point to a cat and say 'Mama.'"

On dieting: "I was going to stop eating my meals standing at the kitchen counter – I was going to sit to eat like everybody else. I was going to go to the gym five times a week. I was going to drink water instead of juice and try to eat more vegetables. I was going to look through my old CDs, the ones that had been entirely replaced by nursery rhyme albums and counting songs, and boogie around with the kids to at least one 1970s funk song every day. I was going to keep an ongoing list of pleasures in life that were almost as good as food, things like back rubs and pedicures and going to the movies. And finally, come hell or high water, every single Saturday, I was going to go down to that insanely seductive little bakery at the corner of Huron and Archer – by myself with no distractions – and eat a giant piece of chocolate cake, bite by bite."

On reviewing other parents: I did it, too. There was something so delicious about reviewing other moms' struggles – the boy who ate dirt, the baby who was afraid of the bath, the girl who screamed whenever she saw a squirrel – and analyzing and solving their problems. If only the mother of that boy who ate dirt would give him iron supplements, you'd say, he'd be fine. He was seeking out iron! Didn't everybody know that? What kind of mother hadn't read that? It was comforting to be an expert, to know that you yourself, would never be stumped by such things."

On growing up: "I would never be a child again. I would never fall asleep to the sounds of my mother washing dishes in the kitchen outside my room. I would never crawl in next to her after I'd had a bad dream. I would never eat a Popsicle on the back steps, or do a flip on the trapeze, or crank a Matchbox car up to the top of the plastic garage. It had not occurred to me to mourn losing those things until now. I had done each of those things, somewhere along the way, for a last time – without realizing it was the last time."
Katherine Center is clearly a talented writer. The plot of Everyone is Beautiful was beautiful. I think the only reason I wasn't more enamored with this book is the fact that I do not have children. This is on my list of books to reread after the advent of child number two. But, whether you have children or not, I think you'll enjoy this one.
Everyone is Beautiful, by Katherine Center [rating:4]
Other Reviews:
Book Addiction
Booking Mama
The Last Book I Read
Maw Books Blog
S. Krishna's Books