Love Begins in Winter, by Simon Van Booy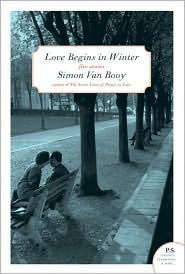 Title: Love Begins in Winter
Author: Simon Van Booy
Pages: 226
Publisher: Harper Perennial
Copyright: 2009
Format: Paperback
Rating: [rating:4]
____________________________
I received this book for free from the publisher. All content and opinions are my own.
Simon Van Booy is likely to become on of my favorite writers. His prose is heavy with meaning and yet playful. Love Begins in Winter is a collection of five short stories that are all lyrical and well-wrought. The five stories are "Love Begins in Winter," "Tiger, Tiger," "The Missing Statues," "The Coming and Going of Strangers," and "The City of Windy Trees."
My favorite story was "The Missing Statues," which deals with a hard day in the life of a little boy, made better by the kindness of a gondolier. "Tiger, Tiger" is about a woman who shows her love in an odd way. "Love Begins in Winter" is a winding love story between two slightly odd lovers. "The Coming and Going of Strangers" is about a young boy's first love. And finally, "The City of Windy Trees" is about a lonely old man who finds a reason to hope. Each story is so full, but I won't say more. These stories are best approached with little background.
I couldn't get enough of Van Booy's writing. Here's a brief sample of Van Booy's descriptive powers, which very much evoked Rome for me:
A dog with gray whiskers limped past and then lay on its side in the shade. Men leaned on their brooms and talked in twos and threes. The priest reached his arm around the man and squeezed his shoulder dutifully. The young diplomat turned his body to the priest and wept into his cloth. The fabric carried a faint odor of wood and smoke. An old woman in black nodded past, fingering her rosary and muttering something too quiet to hear.
You really just need to read it. This collection drew me in immediately and didn't let me go, even after I turned the last page. This isn't the last I'll read of Simon Van Booy's work.
Love Begins in Winter, by Simon Van Booy [rating:4]
Other Reviews:
Bookfoolery and Babble
______________________________________
GIVEAWAY [Giveaway Closed]
Harper Perennial declared summer 2009 the Summer of the Short Story. In celebration of this summer's theme, they sent me six collections of short stories to give away to you!
The Happy Failure, by Herman Melville
Family Happiness, by Leo Tolstoy
A Disgraceful Affair, by Fyodor Dostoyevsky
The Model Millionaire, by Oscar Wilde
An Experiment in Misery, by Stephen Crane
The Bohemian Girl, by Willa Cather
In addition to stories by the stated author, each collection contains a bonus story by a contemporary short story author.
To enter to win one of these collections, leave a comment on this post stating which collection(s) you'd like.  Twitter about the giveaway using the hashtag #thebluestocking for an extra entry.  Leave a comment stating that you are a subscriber of this blog for two extra entries.  U.S. and Canadian addresses only please. Random.org will select six winners on Friday, July 10, 2009. Good luck!