How I Live Now, by Meg Rosoff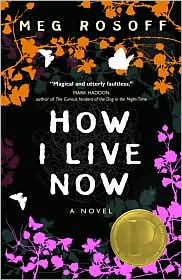 Title: How I Live Now
Author: Meg Rosoff
Pages: 194
Publisher: Wendy Lamb Books
Copyright: 2004
Format: Paperback
Rating: [rating:5]
____________________________
How I Live Now won the Printz medal in 2005. I read this book for the Printz Project (which I co-host with Suey), the Book Awards Challenge, and the YA Challenge.
When Daisy couldn't take her step-mother anymore, she decided to go and live in the English countryside with an aunt and cousins she had never met. Shortly thereafter, while the aunt is away on business, England is invaded. Daisy and her cousins are left to fend for themselves in a dystopian world.
I was really pulled into this book. Daisy is a great character with a great voice. And the writing is pitch perfect. The story is fascinating and well-paced. And, for the cherry on top, Meg Rosoff really knows how to turn a sentence:
If you haven't been in a war and are wondering how long it takes to get used to losing everything you think you need or love, I can tell you the answer is No time at all.
In all, this book is one of the best I've read in a long time. It's not perfect. The ending was a little slow for me. And be warned that there is some cousin lovin', but it's not graphic and fits in with the story and the characters. But the book as a whole is fascinating. Really fascinating. I highly recommend it.
How I Live Now, by Meg Rosoff [rating:5]
Other Reviews:
1 More Chapter
Becky's Book Reviews
Bold. Blue. Adventure.
In Spring it is the Dawn
Jenny's Books
Presenting Lenore
Stephanie's Written Word
Things Mean a Lot
Tip of the Iceberg