Al Capone Shines My Shoes, by Gennifer Choldenko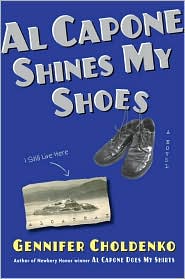 Title: Al Capone Shines My Shoes
Author: Gennifer Choldenko
Pages: 272
Publisher: Dial Books
Copyright: 2009
Format: Hardback
Rating: [rating:4]
____________________________
I received this book for free from the publisher. All content and opinions are my own.
I read and loved Al Capone Does My Shirts, a Newbery Honor book, a while back. So, I was excited when the publisher asked if I might be interested in an ARC of the sequel! I, of course, eagerly nodded my head.
In this lively sequel, we're back on Alcatraz with Moose Flanagan. He's made a bargain of sorts with Al Capone through the laundry system. Al Capone got Moose's sister Natalie into a special school. Now Al wants Moose to return the favor.
My favorite part about these two books is the setting – the glimpses into the "civilian" life on Alcatraz. It's lovely and historical without reading like a textbook. And, I love the characters too. Moose is great. So are Piper, Scout, Annie, Theresa, and Jimmy. The plot this time around is fun too. There's, of course, squabbles among the children, crushes, misunderstandings, and minor emergencies. But when faced with big, life-threatening problems, the Alcatraz kids manage to come together. Choldenko really knows how to put together a children's book. I look forward to more from her.
Al Capone Shines My Shoes, by Gennifer Choldenko [rating:4]
Other Reviews:
Kids Lit
Killin' Time Reading
The Novel World
Peaceful Reader
Welcome to My Tweendom