The Kite Runner, by Khaled Hosseini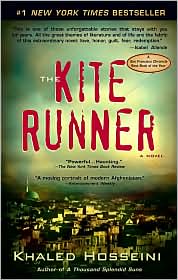 Title: The Kite Runner
Author: Khaled Hosseini
Pages: 371
Publisher: Penguin Group
Copyright: 2003
Format: Paperback
Rating: [rating:4]
____________________________
Okay, I know that I am like the second-to-last person on the planet to have read this book. I'm not sure why exactly, except that it hasn't really come up. This month I picked it up because we're going to be discussing it in my face-to-face book club. And I'm so glad that we are. This is a book that begs to be discussed.
Here's the teaser from Khaled Hosseini's website:
Taking us from Afghanistan in the final days of the monarchy to the present, The Kite Runner is the unforgettable, beautifully told story of the friendship between two boys growing up in Kabul. Raised in the same household and sharing the same wet nurse, Amir and Hassan nonetheless grow up in different worlds: Amir is the son of a prominent and wealthy man, while Hassan, the son of Amir's father's servant, is a Hazara, member of a shunned ethnic minority. Their intertwined lives, and their fates, reflect the eventual tragedy of the world around them. When the Soviets invade and Amir and his father flee the country for a new life in California, Amir thinks that he has escaped his past. And yet he cannot leave the memory of Hassan behind him.
I have a lot of not-very-coherent thoughts about this book. As I started reading, I thought that the writing was a little stilted. And while that writing style didn't necessarily change in the rest of the book, the story moved in and took all of the attention away from the writing – in a good way. I was compelled to read page after page. I read the last three hundred pages in one day, and I was impatient that things like eating and working got in the way.
And yes, for those that like to know such things, this is a violent book. Sad things happen and then some more sad things happen. But good things happen too.
Though I liked the story very much, there were some issues with it. For one, it was a little fantastic and a little convenient. But I didn't care as I was reading. I was fascinated as the plot twists and turns. I was right there with Amir, living through it. After I finished that last page, I sat and ruminated on the meaning of the title, the relationship between Amir and Hassan, the relationship between Amir and Baba, the history of Afghanistan, and the fate of Sohrad. And that, I guess is what a really good book can do. This one isn't perfect by any means, but it is beautiful and meaningful and just a really good read.
The Kite Runner, by Khaled Hosseini [rating:4]
Other Reviews:
1morechapter.com
BookLit
Book Nut
Book Review Maniac
Caribousmom
Confessions of a Bibliophile
DogEar Diary
The Literate Housewife Review
Maw Books Blog
A Novel Menagerie
Out of the Blue
Reading Comes from Writing
She Treads Softly
Yule Time Reading
There are so many reviews of this book, I couldn't list them all. If I missed yours, let me know in the comments, and I'll add it.