After the Moment, by Garret Freymann-Weyr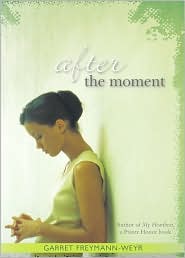 Title: After the Moment
Author: Garret Freymann-Weyr
Pages: 328
Publisher: Houghton Mifflin
Copyright: 2009
Format: Hardback
Rating: [rating:3]
____________________________
I received this book for free from the publisher. All content and opinions are my own.
Welcome to today's stop on Garret Freymann-Weyr's blog tour for her latest novel, After the Moment.
After the Moment is told from Leigh's perspective, a considerate, athletic, and intelligent teen. He lives with his mother in New York City but spends a good amount of time at his father's house in D.C. with his little step-sister, Millie. When Millie's father is killed, Leigh moves to D.C. to support Millie and meets her friend Maia. Maia is a self-proclaimed train wreck – recovering or suffering from a number of issues including anorexia, cutting, alcoholism, etc. Leigh immediately falls in love with Maia. They have a couple of months of first love bliss. Then the event occurs that throws them forever into the "after."
I liked the flow of this book. The language is, at times, great. I really felt like I was inside Leigh's head. I experienced his bewilderment at the world – especially about girls. I liked Leigh's character, as well as Millie's, though I wish their relationship had been explored a bit more. I also enjoyed the references to the war in Iraq and Leigh's confusion about the issues. I think his confusion, even after media saturation, is a very real malady these days. One sticking point for me was that Leigh is drawn as a pretty smart, grounded teenager, but once Maia enters his life, he makes poor decision after poor decision and doesn't really see that the decisions were poor. Also, some of the characters seemed a little flat – like pawns in the plot. Still, After the Moment is an interesting view of first love and the ability of teens to love wisely.
I plan on reading more of Freymann-Weyr's work, particularly My Heartbeat, which was a 2003 Printz honor book.
After the Moment, by Garret Freymann-Weyr [rating:3]
Other Reviews:
Another Page is Used
Books by Their Cover
The Brain Lair
Cindy's Love of Books
Harmony Book Reviews
My Friend Amy
Serenehours
A Striped Armchair
The Zen Leaf