Bud, Not Buddy, by Christopher Paul Curtis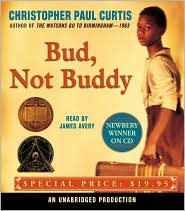 Title: Bud, Not Buddy
Author: Christopher Paul Curtis
Pages: N/A
Publisher: Random House
Copyright: 2000
Format: Audio
Rating: [rating:4]
____________________________
So, in January, we bought a house, which is great. However, it changed my commute from about two minutes to thirty-five minutes each way. I've been NPR-ing it during the drive, until last week. I was at my local library and decided to check out a couple of audio books. Bud, Not Buddy was first up on the play list. And I have to say that I really enjoyed the experience.
Bud is a ten-year old left on his own during the depression after his mother died. He's a spunky narrator, who has developed mechanisms for dealing with life in "the home" and in various foster homes. He's also developed Bud Caldwell's Rules and Things for Having a Funner Life and Making a Better Liar Out of Yourself. When things at a foster home go poorly, Bud goes on the lam and sets out to find his father.
I really enjoyed Bud as a narrator. He sees things in a childlike way, but with a touch of road-weariness. It was interesting to have the story unfold during the Depression. At times it was hard to imagine a ten-year-old out on his own, but apparently it wasn't all that uncommon during the time period. And the rest of the characters in this book are well-drawn and memorable. The audio book was really good quality. It was narrated by James Avery, who I just realized was the uncle in Fresh Prince of Bel Air. I enjoyed this one enough, I'd recommend it on audio or in print.
Bud, Not Buddy, by Christopher Paul Curtis [rating:4]
Other Reviews:
1morechapter
The African Bookworm
Bib-Laura-graphy
Thoughts of Joy
Word Lily