Catching Fire, by Suzanne Collins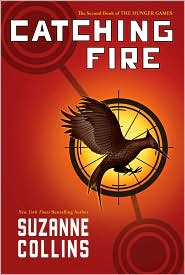 Title: Catching Fire
Author: Suzanne Collins
Pages: 400
Publisher: Scholastic Press
Copyright: 2009
Format: Hardback
Rating: [rating:3]
____________________________
I purchased The Hunger Games months ago, but didn't pick it up until recently because I knew, from all of you, that I wanted to have uninterrupted time to read it. So, I waited until I was on vacation. Luckily, I'd received a copy of Catching Fire for my birthday and had brought that along too. I hopped right from The Hunger Games to Catching Fire.
Katniss is home in her fancy house next to Peeta's and Haymitch's fancy houses in District 12, waiting to go on tour. Though she and Peeta won the Games, things are still scary because those in charge at the Capital were very displeased with what they saw as Katniss's act of rebellion in forcing two winners. Also, there are mumblings of uprisings in other districts. And then, it comes time for the 75th Hunger Games.
I didn't find this book to be as compelling as The Hunger Games. Catching Fire seemed, to me, to be very contrived at every turn. I kept getting pulled out of the book by questioning whether that would have really happened, would that character really have reacted that way? I think I was still emotionally wrung out by The Hunger Games and was not ready to go through it all again. Still, it was a pleasing sequel in that all of the characters are present and accounted for, those very characters are in peril, and there are a lot of twists.
As I mentioned in my review of The Hunger Games yesterday, I'm missing my book club's discussion of these two books, so I'm purging some random thoughts below. Beware of some spoilers.
Stars – This one only gets three stars.  It was enjoyable, but not quite up to par for me.  I just keeping thinking that word – contrived.
Contrivances – Really?  Really?  Peeta and Katniss back in the Hunger Games?  Really??  Really?
Motivations – Everyone's motivations are shifting around and are unclear in this one.  Prim, clearly, is no longer the driving factor in Katniss's actions.  Is Gale?  Is Peeta?  Is her allegiance to the alleged uprising?
Uprisings – Would the districts really see Katniss as the symbol of the uprising?  Would they react that way to her suicide pact idea?
The Fade Out – Okay, someone please tell me.  Did Katniss and Peeta just sleep together, or did they "sleep" together?
The Baby – Yeah, this might belong up in motivations.  The alleged pregnancy seemed, again, like a plot contrivance that appeared when needed and disappeared as convenient.
The Games – I did like the whole clock set up.  And some of the new characters were cool.  I liked the reappearance of the mockingjays, and wasn't the force field thingy cool?
Team Gale v. Team Peeta – I'm still pretty clearly on Team Peeta.  I like Gale and all, but there's just something about that smooth-talking Peeta.
Hmm . . . apparently I had more issues with this one than I thought.  What do you think?
Catching Fire, by Suzanne Collins [rating:3]
Other Reviews:
1morechapter
Booking Mama
Devourer of Books
Everyday Reads
Linus's Blanket
Maw Books Blog
My Friend Amy
Presenting Lenore
Stephanie's Written Word