The White Darkness, by Geraldine McCaughrean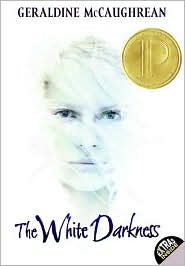 Title: The White Darkness
Author: Geraldine McCaughrean
Pages: 369
Publisher: HarperTeen
Copyright: 2006
Format: Paperback
Rating: [rating:4]
____________________________
I picked up this book from Amazon because it won the Printz Award in 2008. So, it obviously counts for the Printz Project!
From the publisher:
I have been in love with Titus Oates for quite a while now—which is ridiculous, since he's been dead for ninety years. But look at it this way. In ninety years I'll be dead, too, and the age difference won't matter.

Sym is not your average teenage girl. She is obsessed with the Antarctic and the brave, romantic figure of Captain Oates from Scott's doomed expedition to the South Pole. In fact, Oates is the secret confidant to whom she spills all her hopes and fears.

But Sym's uncle Victor is even more obsessed—and when he takes her on a dream trip into the bleak Antarctic wilderness, it turns into a nightmarish struggle for survival that will challenge everything she knows and loves.
I enjoyed this book. It was very atmospheric – both in setting and in tone. I loved that Sym was in love with Titus Oates and thought that he was one of the best characters. I really enjoyed learning about the history of the exploration of Antarctica. It did frustrate me that Sym seemed a little too naive sometimes, but she's a teen. I liked the adventure aspects, and there's a twist! Also, the writing is smart. In the end, it's not just the setting that makes this book worth reading.
The White Darkness, by Geraldine McCaughrean [rating:4]
Other Reviews:
Becky's Book Reviews
books i done read
bookshelves of doom
Confessions of a Bibliovore
The Indextrious Reader