The Angel's Game, by Carlos Ruiz Zafon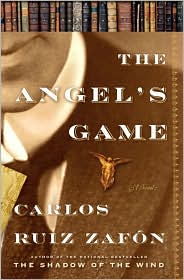 Title: The Angel's Game
Author: Carlos Ruiz Zafon (trans. Lucia Graves)
Pages: 544
Publisher: Doubleday
Copyright: 2009
Format: Hardback
Rating: [rating:4]
____________________________
I received this book for free from the publisher. All content and opinions are my own.
I read Carlos Ruiz Zafon's first book (at least the first of his books to be translated into English), The Shadow of the Wind, a couple of years ago and loved it. It's one of those books seeped in books. There's even a place called the Library of Forgotten Books. So, when Doubleday offered me an ARC of his second book, The Angel's Game, I said, yes please. I promptly read it, and then couldn't write the review. And, six months later, I admit that I am still completely flummoxed by the thought of reviewing this book.
Publisher's summary:
In an abandoned mansion at the heart of Barcelona, a young man, David Martín, makes his living by writing sensationalist novels under a pseudonym. The survivor of a troubled childhood, he has taken refuge in the world of books and spends his nights spinning baroque tales about the city's underworld. But perhaps his dark imaginings are not as strange as they seem, for in a locked room deep within the house lie photographs and letters hinting at the mysterious death of the previous owner.

Like a slow poison, the history of the place seeps into his bones as he struggles with an impossible love. Close to despair, David receives a letter from a reclusive French editor, Andreas Corelli, who makes him the offer of a lifetime. He is to write a book unlike anything that has ever existed—a book with the power to change hearts and minds. In return, he will receive a fortune, and perhaps more. But as David begins the work, he realizes that there is a connection between his haunting book and the shadows that surround his home.

Once again, Zafón takes us into a dark, gothic universe first seen in the Shadow of the Wind and creates a breathtaking adventure of intrigue, romance, and tragedy. Through a dizzingly constructed labyrinth of secrets, the magic of books, passion, and friendship blend into a masterful story.
My random notes:
Intricate plot, with a lot of imagery from and allusions to Greek mythology
Themes revolve around death and sin – definite possibility that the devil is a main character
A plethora of characters, most of whom are well drawn
Translation seemed flawless
The Library of Forgotten Books makes an appearance!
In short, I liked this book a lot.  It is an intense and intricate book, with lots of imagery and allusion.  I think those who enjoyed The Shadow of the Wind will enjoy this one too.  But, I would recommend reading The Shadow of the Wind before tackling this one.  I'll be rereading both books in the future.
The Angel's Game, by Carlos Ruiz Zafon [rating:4]
Other Reviews:
book-a-rama
Devourer of Books
Pages Turned
S. Krishna's Books
Shelf Love