The Road, by Cormac McCarthy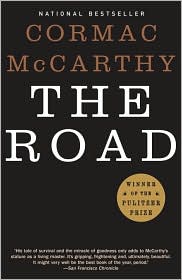 Title: The Road
Author: Cormac McCarthy
Pages: 287
Publisher: Vintage
Copyright: 2006
Format: Paperback
Rating: [rating:5]
____________________________
It has taken me years to get to this marvelous book. I purchased a copy several years ago, when it was first selected by Oprah for her book club. Since that time, it won the 2008 Pulitzer and was made into a movie. (Check out my brother's review of the movie.) I've purchased the book numerous times for friends and family. And yet, I only read it a few weeks ago. I'm just glad I finally picked it up.
The plot is excruciatingly simple: A man and his young son travel a post-apocalyptic America in search of food, shelter, and hope in the form of other "good guys."
This is my first Cormac McCarthy experience, but I'm told that this is one of his more "accessible" works. Still, there are no characters names, so mostly, it's just "the boy" and "the man." This irritated me for the first 75 pages or so, particularly in a scene where there is a scuffle amongst the man, the boy, and a different man. I had to read the scene several times, and even then I was left vaguely confused as to who was pointing the gun at whom. Also, the lack of clear dialog attribution and the use of "he" to describe both the man and the boy made for some confusion. The writing is so sparse it makes Hemingway look like a blabbermonth. However, there was clearly a purpose to the writing style, and I appreciated the style more as I got further into the book. By the end, I couldn't imagine The Road written any other way. The writing is beautiful in its simplicity and starkness. Here are a couple of my favorite quotes:
Where you've nothing else, construct ceremonies out of the air and breathe upon them. (74)

We wouldnt ever eat anybody, would we?
No. Of course not.
Even if we were starving?
We're starving now.
You said we werent.
I said we werent dying. I didnt say we werent starving.
But we wouldnt.
No. We wouldnt.
No matter what.
No. No matter what.
Because we're the good guys.
Yes.
And we're carrying the fire.
And we're carrying the fire. Yes.
Okay. (128-29)

He could not construct for the child's pleasure the world he'd lost without constructing the loss as well and he thought perhaps the child had known this better than he. (154)
One of the things that I like best about this book is that its simplicity lends itself to different readings and implications. My husband and I fundamentally disagree about the underlying tone of the ending and about the man's concerns for his son. This book applies to everyone a little differently and would make an excellent book club selection for that reason.
And, I must say, that finishing the book is hardly the end of the experience. I have had numerous, lengthy conversations about the potential ramifications of this book since I finished it. I've made resolutions to learn how to can (i.e., make preserves). My brother has taken to collecting lighters. And, I've thought through a scenario in which I might have to eat my dog.
I can't really say that I loved this book, and yet it has won a place amongst my favorite books of all time. It's just one of those books. It is dark and depressing and almost without hope. And yet, it is thought-provoking and beautiful. It has woven its way into my world view. And that is perhaps the highest compliment I can pay to a book.
The Road, by Cormac McCarthy [rating:5]
Other Reviews:
An Adventure in Reading
Bibliofreakblog
Bibliolatry
BookFox
Books for Breakfast
books i done read
Care's Online Book Club
Caribousmom
Fyrefly's Book Blog
Grasping for the Wind
Hey Lady! Whatcha Readin'?
Incurable Logophilia
In Spring It Is the Dawn
Melody's Reading Corner
Reading Matters
Rhapsody in Books Weblog
Rob Around Books
Save Ophelia
Small World Reads
SomeReads
things mean a lot
The True Book Addict
The Well-Read Child
Yule Time Reading